ASUS' Republic of Gamers (ROG), a brand synonymous with gaming and overclocking, today presented a host of innovations and products designed to provide users with the ultimate experience in high performance gaming and overclocking.
These include ROG's exclusive MemOK! one-click memory rescue tool for effortless and worry-free memory upgrades, the limited edition ASUS ROG MARS GTX 295 graphics card that shatters all existing graphics benchmarks, and the world's most intelligent graphics card-the ROG MATRIX GTX 285. Other highlights include a 120GHz 3D-ready Gaming Monitor that provides users with an immersive gaming experience, and the ASUS W90 notebook-a mobile gaming powerhouse that has recently set a Guinness World Record in overclocking. With such an impressive line-up, ASUS is once again poised to set the gaming and overclocking scene alight.
ROG: Empowering Gamers and OC Enthusiasts around the World with the Ultimate Gaming and OC Experience
Established in 2006, the Republic of Gamers (ROG) is an initiative by ASUS to provide the very best hardware and technologies to the gamers and overclocking enthusiasts of today. Through extensive research and development, product testing and the constant pursuit of gaming and overclocking perfection, ROG has become a badge of honor for pro-gaming and overclocking champions the world over. With numerous 3DMark Vantage world records for the Entry, Performance, High and Extreme presets under its belt, ROG is the final word in extreme performance and absolute dependability.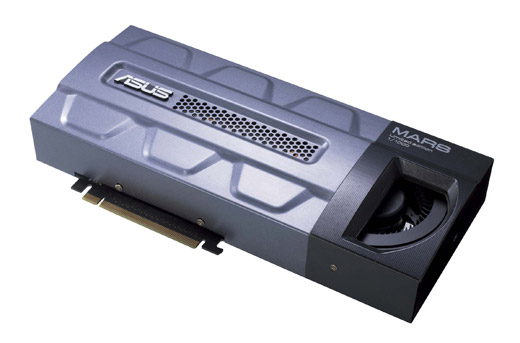 MemOK!: Any Memory is A-Ok!
Memory compatibility issues are often the bane of system upgraders, and ASUS is the only motherboard manufacturer in the world that has devised an ingenious tool solely to tackle memory-related problems. Called MemOK!, ASUS' exclusive motherboard feature takes the guesswork and anxiety out of memory upgrading, restoring user confidence and peace of mind. In the event of a boot failure after installing new RAM, all the user has to do is press an easily accessible button on the motherboard and MemOK! will automatically load the failsafe settings needed to ensure a successful system boot. MemOK! is able to rapidly detect and resolve memory issues-even if bad or unstable memory is used! MemOK! is available on the newly released Rampage II GENE, Maximus II GENE and the Crosshair III Formula motherboards.
ROG MARS GTX 295 Graphics Card: Limited Edition, Unlimited Power!
The new ASUS ROG MARS is currently the fastest graphics card in the world and a dream come true for gamers everywhere. An unprecedented combination of dual NVIDIA® GeForceTM GTX 285 GPUs, an awe-inspiring 4GB onboard memory and the world's first 1024-bit memory bandwidth, it is 23% more powerful than stock NVIDIA® GeForceTM GTX 295 graphics cards. The ROG MARS GTX295 graphics card also features an improved thermal design that boasts a 65% increase in heat pipe coverage and a 20% heat dissipation rate-thus delivering extreme cooling, even during graphically intensive operations. The ultimate result is non-stop adrenaline-pumping graphics and special effects for a truly unique and simply breathtaking gaming experience. The ASUS ROG MARS will only be available as a limited edition, and each graphics card will be assigned a unique serial number. With only 1000 units slated for production, the ASUS ROG MARS is a masterpiece of power and performance that every hardcore gamer and overclocker must own.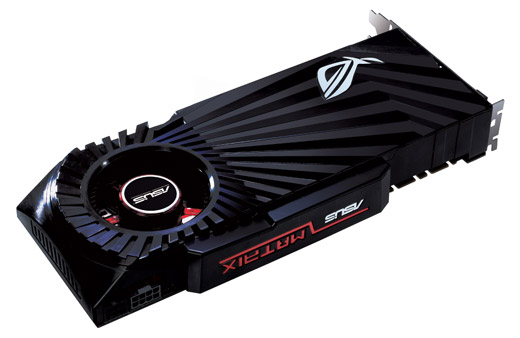 ASUS ROG MATRIX GTX 285: Rule Your Game with the World's Most Intelligent Graphics Card
The latest ASUS ROG MATRIX GTX 285 graphics card comes equipped with the Super Hybrid Engine for automatic hardware load monitoring and adjustments, delivering 15%* lower GPU noise and increasing overclocking stability for up to a 10%* increase in performance. A 5-level LED display allows users to keep track of the loading of the GPU. One of the highlights of the ASUS ROG MATRIX GTX 285 is the new iTracker2, which retains its predecessor's robust hardware monitoring capabilities and five scenario GUI modes, but now also features exclusive memory timing settings, BIOS burning and a recovery application to provide gamers with advanced control of their graphics card. With a simple click of the Safe Mode button, users can now boot their systems in safe mode even when the BIOS has crashed, and iTracker2 will automatically recover the BIOS. Keeping the ASUS ROG MATRIX GTX 285 cool is the Extreme Cooler, which intelligently makes timely fan speed adjustments according to GPU loading, and comes with 46.5%* more heatpipe coverage-increasing heat dissipation efficiency by 12%*.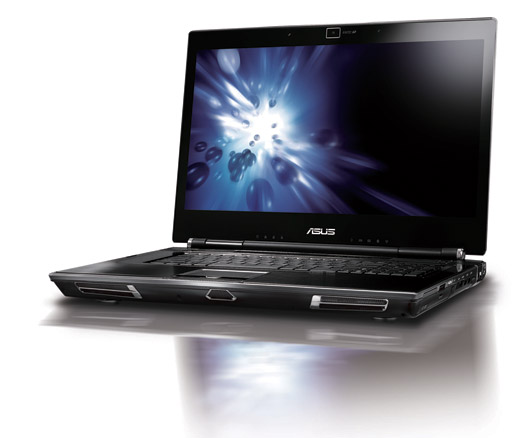 ASUS W90: Guinness World Records' Fastest Notebook
ASUS is proud to announce that the ASUS W90 has been recognized by the Guinness World Records as the fastest notebook in the world. Powered by an Intel® CoreTM 2 Extreme QX9300 processor and equipped with an ATI® Mobility Radeon® HD4870X2 graphics solution with 1GB of GDDR3 VRAM, the ASUS W90 achieved an unprecedented 3DMark06 score of 20324 at a recent overclocking gathering in Norway. This announcement comes shortly after the ASUS W90 clinched CNET's coveted Editors' Choice award. In the review, CNET's Joshua Goldman, the reviewer, said the multimedia powerhouse delivered "mobile gaming performance [that] is tough to beat", pointing out that the W90 had "outpaced all other notebooks in the processor-intensive performance tests" he conducted when running in overclocked mode.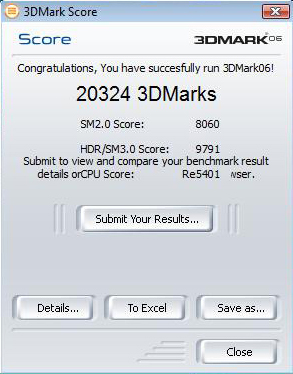 The ASUS W90 sports an exterior design reminiscent of high performance sports cars. Head-turning looks aside, it provides users with the absolute best in multimedia entertainment and gaming. The setting of a new Guinness World Record solidifies its reputation as the epitome of extreme performance and irresistible style.
ASUS G51 and G60: Immersive Gaming through High Definition Sight and Sound
Sporting a futuristic, robot-inspired 'mecha' design, the new ASUS G51 and G60 notebooks are equipped with Altec Lansing® speakers-augmented by EAX Advanced HD and CMSS technologies-that provide stellar 3D surround sound to users for gaming, music or movies. An extreme performance NVIDIA® GeForceTM GTX 260M graphics solution provides true-to-life visuals, further supported by PhysXTM Technology which brings real-world realism and particle physics to games. The ASUS G51 and G60 deliver their spectacular visuals on full high definition displays with a 16:9 aspect ratio.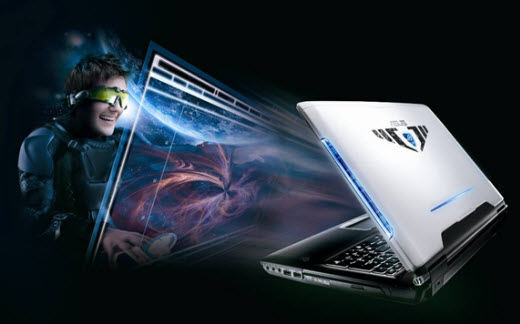 120Hz Full HD 3D-Ready Gaming Monitor: Truly Immersive Entertainment in High Definition
The ASUS 120Hz Full HD 3D-Ready Gaming Monitor is a display unlike any other. It provides users with a truly immersive entertainment and gaming experience, with double the frame rate-120Hz, to be exact-as compared to the 60Hz of conventional displays. The significantly higher frame rate eliminates motion blur on fast-paced content. Full HD 1080p and HDMI deliver progressive signals for crystal clear visual quality. Trace Free Technology provides smoother images with an ultra-quick 2ms (GTG) response time, perfect for gamers who require lightning fast images to match their keen reflexes while gaming. Compatible with NVIDIA®'s 3D Vision kit, the 120Hz Full HD 3D-Ready Gaming Monitor provides users with a visually immersive gaming environment that is out of this world.

ASUS at COMPUTEX TAIPEI 2009
To find out more about these showcased products and technologies, please visit us at Booth no. M509A, Taipei World Trade Center Nangang Exhibition Hall 4F from June 2-6.
Source: Asus