Bang & Olufsen introduces an unusual and elegant alarm clock and sleep timer with system integration possibilities; as pleasing to the eye and hand as it is easy to use. It is the physical manifestation of a simple message uniting beauty, utility and humanisation in a surprisingly discreet form.
BeoTime is Bang & Olufsen's idea of the bedroom's best friend; an alarm clock that makes waking up the highlight of the day. Whether you choose to wake up to the sound of BeoTime's own discreet chime on its own, or add the sound of your favourite TV programme, radio station, or piece of music, BeoTime makes every morning a pleasant one. When you're heading out the door, BeoTime ensures that the Bang & Olufsen system in your bedroom shuts off at a preset time.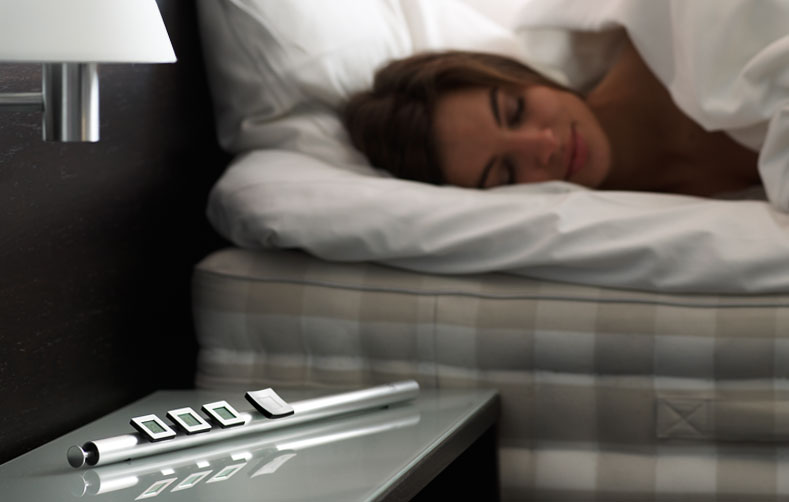 BeoTime also features a built-in sleep timer which can switch all Bang & Olufsen equipment in the room to standby after a selected time interval of up to 120 minutes – a convenient feature for those who like to stay up late watching television, or fall asleep to the sound of a favourite CD without having to worry about turning the music off. In addition to the alarm and sleep timer functions, you can use BeoTime for basic operation of the bedroom television, loudspeaker or light control.
BeoTime is characterised by a high degree of convenience and ease of use. It can be held in one hand and operated with your thumb, and thanks to the built-in tilt sensor, display information and button functions change orientation in accordance with how BeoTime is held, left on your night table or placed in its wall bracket.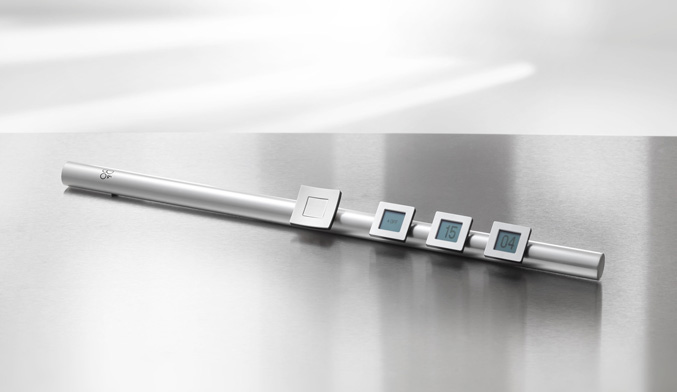 Visual identity
The designer, Steffen Schmelling, was looking for things that inspired him to a wonderful waking up experience, and he thought of Mozart's The Magic Flute; a story with wonderful music, where light defeats the dark, and where you have a mix between dream and fantasy. It was obvious to use the flute as the visual symbol of such an experience.
BeoTime is a beautifully anodised and polished aluminium tube, with a trumpet-shaped button protruding from one end when the alarm is activated. The button clicks in and out when pressed – a reminiscent of a classic alarm clock – and is used to switch the alarm on and off. In the other end of the tube, a cover conceals the battery compartment for three batteries that will last about one year before they need replacing. Two rubber feet – one at each end of the tube – give BeoTime steady footing when lying on the table. And for mounting on the wall, you will find that BeoTime also includes an almost invisible magnetic wall bracket.
Navigation takes place with the square navigation button, and three separate displays – which feature dark text on a bright background – show the present time, alarm time and wake-up source. The current time is always visible, and because of a built-in motion sensor, the display backlight is activated just by touching BeoTime, e.g. to check the time during the night.
DESIGNER: Steffen Schmelling
DIMENSIONS/WEIGHT: 2,4cm x 39cm x 2,5cm/170g
MATERIALS/COLOUR: Aluminium/Aluminium
FEATURES: Alarm, sleep timer, snooze via motion sensor,display orientation with tilt sensor
BASIC SOURCE OPERATION: Source on/standby, channel/station select, volume up/down
POWER: 3 AA Alkaline batteries
DISPLAY: FSTN Liquid Crystal Display
RESOLUTION: 48 x 33 pixels
ACCESSORIES: Wall bracket (included)
Source: Bang & Olufsen