A-DATA Technology, the worldwide leader in DRAM modules and Flash application products, today unveiled a brand-new swivel-designed C903 USB Flash Drive. Accentuated by its glossy, metallic swivel casing with a distinctive asymmetric contour therein, C903 is delicately designed to bring out the minimalist style with an innovative touch.
Unlike conventional swivel-designed USB flash drives, the unique asymmetric outer casing of C903 protects the USB connector and serves as a lock mechanism to prevent the connector from sticking out due to constant turning and wearing. The same design also enables users to turn and store the USB connector properly in place with much of an ease.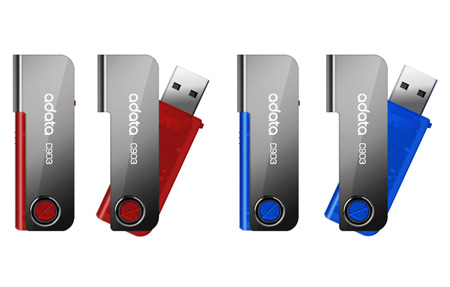 The glossy, metallic casing gives C903 an elegant look, making it an eye-catching fashion accessory when strapped to cellphones, bags or key chains. With capacity up to 32GB and two vivid colors to choose from, A-DATA C903 USB Flash Drive provides an ideal solution for carrying and transferring a large amount of data in style.
To accommodate the needs of today's users, A-DATA offers free download value-added software UFDtoGO (no registration required) and Norton Internet Security 2009 (60-day trial), aimed to enhance both mobility and security of A-DATA USB Flash Drives with just few mouse clicks away. For more information, please visit www.adata-group.com.
Source: A-DATA