KINGMAX, the world-leading memory product manufacturer, presents the topic of"The return of the king" – 2010 Golden Tiger Edition USB flash drive. After the success of "X'mas 2008", "Chinese OX year", "DIWALI India" and "Seasonal edition", KINGMAX continues to transform their most popular products with exquisite design of golden tiger image to express the greeting to customers a warmest wish for the coming year of 2010 as tiger represents the symbol of brave and majestic as well as the meaning of good luck in most far eastern cultures. To response to the theme of "The return of the king", it also declares the ambition of KINGMAX to keep active innovation in the memory industry.
There are two types of Golden Tiger USB flash drives for consumers' choice, which are "Junior Tiger" edition and "King Tiger Edition. Junior Tiger edition comes from KINGMAX's most popular product – Super Stick mini USB flash drive. By utilizing the exclusive patented packaging technology, they are not only compact and small, but also waterproof, dustproof, pressure-resistant, and high/low-temperature resistant and come with the capacity of 2GB, 4GB, 8GB and 16GB. King Tiger edition has White and Black choices and the design is simple and trendy. The highest capacity is up to 32GB. Wherever you go, you may safely store your digital documents, pictures, music and video files around.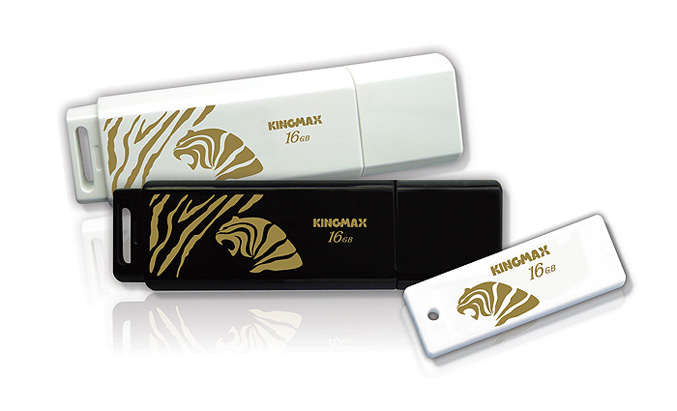 KINGMAX has all its products passed the CE (EU) and FCC (US) certification, and also follows the RoHS directive to ban all materials containing halide and conduct the PFOS/PFOA tests to ensure no hazardous materials are used. The Super Stick Mini not only supports Windows Vista Ready Boost, but also has passed the Windows 7 certification. Therefore, users will not need to worry about product and system compatibility. Under strict quality control, all KINGMAX products have been 100% tested to meet all requirements prior to shipping. In addition to the best quality, KINGMAX provides complete warranty service to exemplify its persistence on premium quality and insistence on flawless customer service.
Specification of KINGMAX Gold Tiger edition:
Junior tiger edition (Super Stick mini)
Capacity: 2GB、4GB、8GB、16GB
Color:White
USB 2.0 standard high speed transfer rate
KINGMAX patent PIP technology with advantages: Waterproof, Pressure resistance, High/Low temperature tolerance (above 100ºC~-40ºC)
True plug and play; no external power required
Dimension : 31.5mm x 12.4mm x 2.2mm
King tiger edition (PD-07)
Capacity: 2GB、4GB、8GB、16GB、32GB
Color:Snow white ; Ink Black
USB 2.0 standard high speed transfer rate
True plug and play; no external power required
Dimension : 62mm x 18mm x 9.2mm
Source: KingMax