Kingston Technology Company, Inc., the independent world leader in memory products,  announced the release of the DataTraveler® 200 (DT200), the world's first 128GB USB Flash drive. The large capacity along with password protection gives users the flexibility to carry critical data with them at all times in a very small form factor.
"The new DT200's robust storage capability lets consumers store complete libraries of music, photos and videos. It is also a great tool for business users who carry around large databases or files," said Andrew Ewing, USB business manager, Kingston®. "The password protection helps safeguard data and requires no admin rights, making the DT200 a terrific solution for the home or office."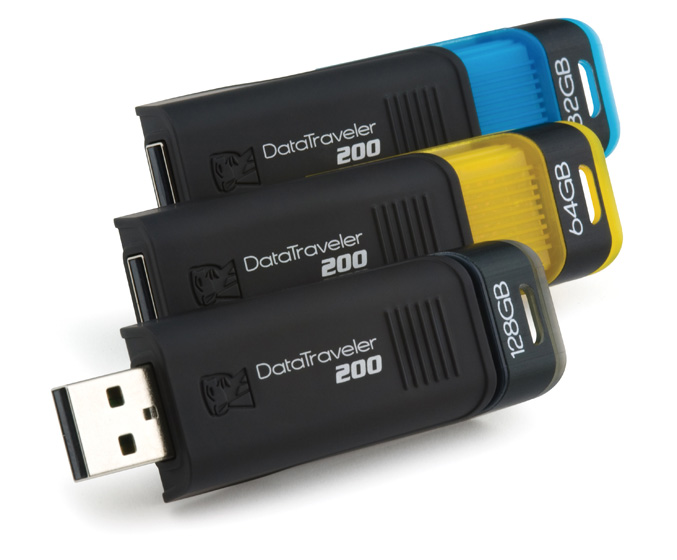 The Kingston DataTraveler 200 features a capless design to protect the USB connector when not in use and is enhanced for Windows ReadyBoost™. It is available in 32-, 64- and 128GB capacities. The 128GB drive is build-to-order only. Customers who wish to purchase it can place an order through normal channels (e.g., e-tailers or resellers).
The DT200 is backed by a five-year warranty and 24/7 tech support. For more information, visit www.kingston.com.
DataTraveler 200 Product Features and Specifications:
Capacities*: 32GB, 64GB, 128GB
Dimensions: 2.77″ x 0.49″ x 0.89″ (70.39mm x 12.52mm x 22.78mm)
Operating Temperature: 32º F to 140º F (0º C to 60º C)
Storage Temperature: -4º F to 185º F (-20º C to 85º C)
Simple: just plug into a USB port
Practical: durable, capless design
Guaranteed: five-year warranty
Safeguarded: includes Password Traveler security software for Windows
Enhanced: for Windows ReadyBoost™ on Vista-based systems
Kingston DataTraveler 200 USB Flash Drive
Part Number
Capacity and Features
MSRP (U.S. only).
DT200/32GB
DataTraveler 200 32GB Blue & Black
$ 120.00
DT200/64GB
DataTraveler 200 64GB Yellow & Black
$ 213.00
DT200/128GB
DataTraveler 200 128GB Black
$ 546.00
Source: Kingston