Kingston Digital, Inc., the Flash memory affiliate of Kingston Technology Company, Inc., the independent world leader in memory products, today announced the release of the DataTraveler® Locker+ USB Flash drive. The DataTraveler Locker+ allows companies of any size to secure mobile data with the ease and confidence of knowing that their data is encrypted and safe. The DataTraveler Locker+ also comes at a lower cost in times of shrinking IT budgets, making it ideal for budget-conscious companies.
"Kingston created this drive to address the rise in data loss and theft which has been a growing problem with expensive consequences. This device gives companies a solution that is not only affordable but provides peace of mind in securing mobile data," said Mark Akoubian, business manager, Secure USB Products, Kingston®. "The DataTraveler Locker+ encrypts 100 percent of the contents and is available at a price point that is very attractive for all entities looking to comply with corporate security policies."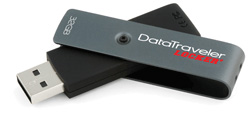 Data on the Kingston DataTraveler Locker+ is secured with 256-bit hardware-based AES encryption. Access to the drive's contents is through a simple to use interface requiring a complex password. The likelihood of successful brute force attacks on the DataTraveler Locker+ is reduced as the drive locks down and reformats after 10 incorrect password attempts.
The 100 percent encrypted DataTraveler Locker+ ships in up to 32GB capacity. For companies in need of a partitionable area on the USB drive for public sharing (e.g., within an office setting), Kingston offers the DataTraveler Locker which allows both a public and encrypted zone. Kingston also ships the DataTraveler Vault – Privacy Edition for enterprise and government customers requiring a speedier, more robust Flash drive. It is also waterproof and Trade Agreements Act-compliant. For more information visit www.kingston.com.
Source: Kingston