Patriot Memory, a global pioneer in high-performance memory, NAND flash and computer technology, announced the addition of the Zephyr series to its family of solid-state-drives (SSDs). The Zephyr series of SSD offer improved system responsiveness with quicker boot times and shorter application loading times over traditional hard disk drive storage solutions.
Patriot's Zephyr series, available in 64GB, 128GB and 256GB capacities, is designed around the latest generation controller from JMicron: JMF612. With a controller level cache of 64MB DDR2, the Zephyr series provide stutter-free performance and offer speeds of up to 240MB/s Read and 180MB/s Write. To maintain performance integrity over the life of the drive, the Zephyr series SSDs include native support for the TRIM command in Microsoft Windows?7. "As solid-state drive technology advances, it is becoming more affordable, allowing SSD solutions to reach an increasing segment of end users. Patriot's objective is to offer the latest technology in our solutions which provide the best performance and price options", states Les Henry, Vice President of Engineering at Patriot. "Our Zephyr family of SSDs offer great performance, aggressive pricing and the inherent benefit of SSD technology over antiquated hard disk drives: quicker boot times and shorter application loading times. Including a Zephyr SSD in your desktop or notebook upgrade plans provides one of the best bang-for-the buck improvements you can make to your system."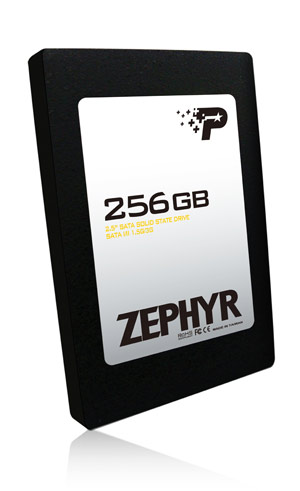 The Zephyr family of SSDs are durable and reliable, with an aluminum housing to minimize typical wear and tear and with NAND memory at their core, there are no moving parts to fail, or be damaged from daily use in portable computing solutions. Additionally, the Zephyr family of SSDs provide incredible performance, reliability and a 3-year warranty.
| | | | | | | | |
| --- | --- | --- | --- | --- | --- | --- | --- |
| Family | Capacity | Model # | UPC | Controller | Read speed | Write speed | Warranty |
| Zephyr | 256GB | PZ256GS25SSDR | 0879699009621 | Jmicron JM612 | 240MB/s | 180MB/s | 3 years |
| Zephyr | 128GB | PZ128GS25SSDR | 0879699009638 | Jmicron JM612 | 240MB/s | 145MB/s | 3 years |
| Zephyr | 64GB | PZ64GS25SSDR | 0879699009645 | Jmicron JM612 | 240MB/s | 85MB/s | 3 years |
Source: Patriot