Silicon Power releases Touch 850 Crystal Disk and by name, no doubt it has the crystal look accompanied by a shinny metallic casing, making it a head-turning fashion accessory as well. Not just good looks, Silicon Power's Touch 850 is no slouch either when it comes to construction, using second to none quality components. It is the USB flash drive to get and the fashion accessory to have.
Touch 850's casing is constructed with zinc alloy, providing ruggedness and polished elegant looks. Coated with crystal-like cut surface, it reflects light from every angle to give off an amazing aura. Touch 850 comes with a dongle accessory and its lidless design can effective protect its USB gold fingers and prevent users from losing their USB lid. It provides the complete user data protection.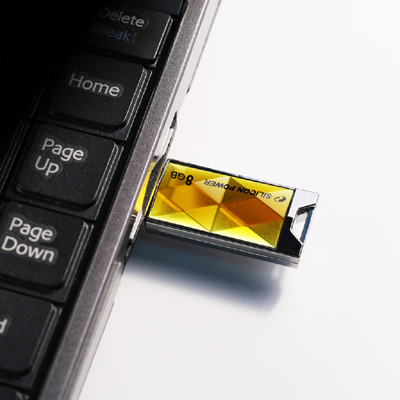 Utilizing COB (Chip On Board) packaging technology, Silicon Power's Touch 850 is waterproof and dustproof. By breaking through existing COB stacking technology, its maximum capacity can reach up to 32GB. In addition, it incorporates Wear Leveling technology that can enhance transfer speed, data reliability and lifespan! Silicon Power's Touch 850 is available in amber and titanium colors. All Silicon Power products are in compliance with strict RoHS standards, and offer lifetime warranty to give users a peace of mind.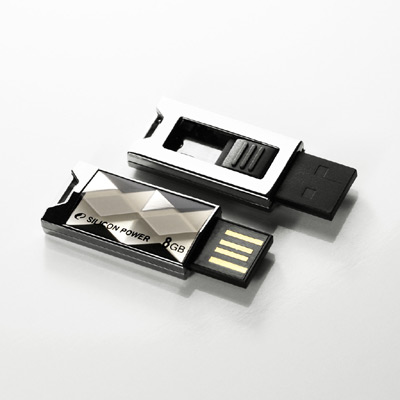 Product features:
-Crystal-like cut surfaces and light reflection aura
-Rugged zinc alloy construction
-Waterproof, dustproof, shock and vibration proof
-Utilize COB (Chip On Board) packaging technology
-Feather light, weight only 6.3g
-Lidless push-out design to protect gold fingers and prevent loosing lids
-Plug and play compatible, does not need additional power
-Compatible with USB 2.0 specifications
-Does not require driver (except Win98/ 98SE)
-In compliance with strict RoHS standards, global green environment trend
-Available in amber and titanium colors
-Lifetime warranty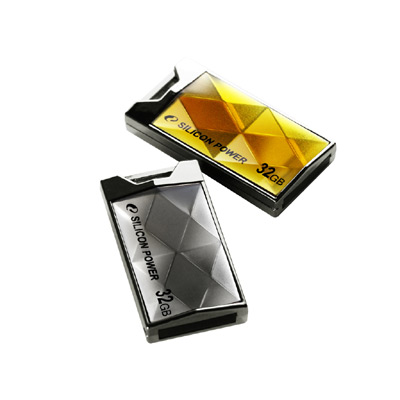 Product specifications:
-Capacity: 32GB/16GB/8GB/4GB/2GB
-Dimensions: 31.6 x 16.3 x 6mm ±0.3mm
-Weight: 6.3 grams
-Interface: USB1.1 and USB2.0
-Supported operating systems: Windows Vista, WinXP, Win2000, WinME, Win98, Mac OS 9.0 & higher
-Plug / unplug durability test: at least 10,000 times
-Operating temperature: 0°C ~ 70°C
-Storage temperature: -40°C ~ 85°C
Source: Silicon Power