From the Sea of Eternal Kingdom, Mia, Eike and their loving and trustworthy pet whale, "Jing-Bao" venture to the dry lands in search of the "Memory Seal" that has been long lost and forgotten! Their adventures begin here. Silicon Power releases Unique 520, a cute eastern style figurine USB flash drive. Figurines are based on the characters Mia and Eike that can be used as storage devices or as decoration accessories.
Silicon Power's Unique 520 is a product based on the new chain-hook design concept. Showing off creativity, it was sought after by buyers who attended the 2009 Computex. The chain-hook design allows users to use the product as a decoration accessory to their purse, clothing, keychain, etc. The ID design outline is of a whale shape with a cheerful look figurine design. The words whale and cheerful in Chinese are abbreviated and pronounced as "Jing-Xi", phonetically identical to "surprise" in Chinese. This is the feeling Silicon Power wants to bring to their customers, a chain-reaction of cheerful surprises every time! Another design concept is that Unique 520 offers couple matching ID design. Users can choose according to their preferences.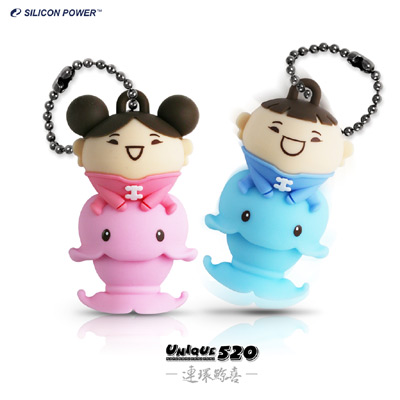 In addition to its external ID design, practicality measures were also considered. Using specialized rubber material, it gives users a firm grip feel and shockproof functionality. Dimensions of Unique 520 are just right for mobile users who wish to use it on their laptops without concerns for multiple USB device obstructions. With its extravagant packaging, it is also the perfect choice as a gift. Unique 520 is available in 4GB to 16GB and owners of Unique 520 can download SmartKit from Silicon Power. The Smartkit application features security, PC-lock, boot disk, file encryption and compression functionalities. It is the perfect solution to secure and effectively manage your data from unauthorized accesses.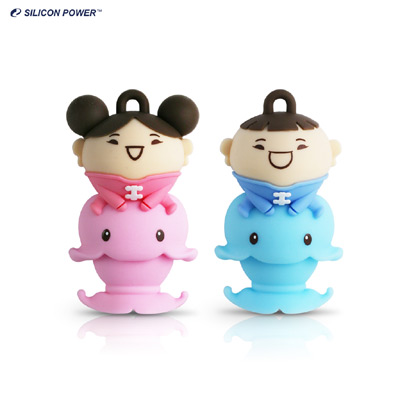 When USB flash devices can be more than just a storage device, it greatly increases its values. Silicon Power's Unique 520 is designed to attract attention and turn heads wherever it goes! The adventures of Mia and Eike is about to begin, please log onto Silicon Power's website for more details and upcoming releases of "Memory Seal" desktop wallpapers and MSN for users to download.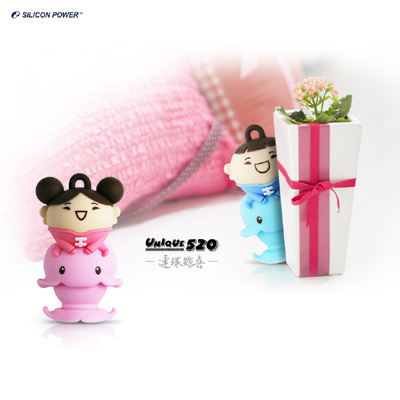 Product feature
– Cute eastern style figurine design
– Not just a storage device but also a decoration accessory
– Shockproof rubber material
– LED status light
– Plug and play compatible, does not require additional power supply
– Compatible with USB 2.0 standards
– Does not require driver installation (except Win98/ 98SE)
– In compliance with RoHS directives, follows green product trend
– Dedicated Silicon Power USB flash drive application software-SmartKit (download from Silicon Power website)
– Color: Sea blue, Cheerful pink
– Lifetime warranty
Product specification
-Capacity: 16GB/8GB/4GB
-Dimension: 63 x 38 x 30 mm ±0.3mm (L x W x H)
-Weight: 30 grams
-Interface: Compatible with USB1.1 and USB2.0
-Supported operating system: Windows Vista, WinXP, Win2000, WinME, Win98, Mac OS 9.0 & higher
-Plug test durability: at least 10,000 times
-Operating temperature: 0°C ~ 70°C
-Storage temperature: -40°C ~ 85°C
Source: Silicon Power