Three new Xeon 5500-based Windows and Linux servers now available, two more available beginning June.
Leading regional IT and communications solutions provider Fujitsu Asia today announced the PRIMERGY dual-socket S5 range of Windows and Linux servers for the ASEAN markets.
Available immediately, the new PRIMERGY dual-socket S5 series represents the first server line by Fujitsu Asia engineered using the new Xeon 5500 family of dual-socket processors (codenamed Nehalem), launched separately today.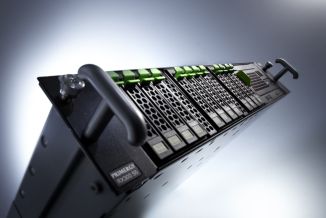 Available in tower, rack or blade configurations, the PRIMERGY dual-socket S5 server line combines on-board virtualisation technologies with inbuilt power-efficient features, for high computing performance with low energy costs.
The TX300 S5 tower server, as well as the RX200 S5 and the RX300 S5 rack servers, are now available. Additionally, the TX200 S5 tower server and the BX620 S5 blade server will be available beginning June.
With up to four cores per Nehalem processor, the PRIMERGY dual-socket S5 range offers up to eight cores per server, offering immense scalability based on end-users' operational needs.
Additionally, the PRIMERGY dual-socket S5 series incorporates various power efficient features for end-users to lower total costs of ownership. The servers utilise the ServerView Power Management technology to conserve power usage, and also sport the unique Cool-safe design for optimised cooling regimes. Furthermore, the new models all have a two-star ranking in Fujitsu's stringent Green IT proprietary labelling scheme, and ship with high-efficiency power supply units. These features allow end-users to minimise energy costs and reduce their environment footprints over the machines' lifetimes.
Examples of possible applications include:
databases or data centres
virtualisation or e-commerce solutions
enterprise resource planning or customer relationship management modules
"The new PRIMERGY dual-socket S5 models offer significant ownership cost savings over their lifetimes. We are introducing a revolutionary design that optimises cooling and usability in tandem with cutting-edge capabilities for workload consolidation and server virtualisation. The result is a high-performance, future-proof server range that meets present and future end-user needs," said Mr Motohiko Uno, Head of Platform Business Group, Fujitsu Asia.
The PRIMERGY dual-socket S5 series of Windows and Linux servers is available for the ASEAN (including Singapore, Malaysia, Thailand, Indonesia, Philippines and Vietnam) markets with immediate effect. Visit http://www.fujitsu.com/sg/services/computing/ or call 6512-7555 for more details.