GlacialTech, the diversified provider of cooling, power supply, PC enclosure solutions for consumer and industrial applications, today announced the launch of Igloo 6100 Series CPU coolers.

The Igloo 6100 range of light weight CPU coolers are easy on your environment with features like low noise, high performance and easy clip are designed for Intel LGA 1366 processors. The 6100 series come in four models- 6100 Silent/6100 Silent(E), 6100 Light/6100 Light (E), 6100/6100(E) and 6100 PWM/6100 PWM(E).
This Series is specially focused for all gaming and PC enthusiasts. Silencing a PC has become an important issue for many PC users, and GlacialTech's engineers have taken this seriously, developing a slew of new products addressing issues related to noise.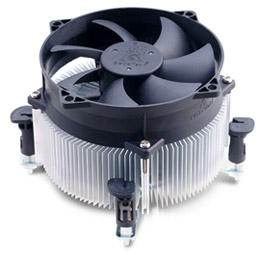 CPU Support
Model

6100 Silent /
6100 Silent (E)

6100 Light /
6100 Light (E)

6100 / 6100 (E)

6100 PWM /
6100 PWM (E)

Socket Type

LGA1366 (i7)

Cooler Dimension (mm)

10 0 × 100 × 68

Cooler Weight (gram)

411

Fan

Type

12 Volts / 1B1S or EBR

Dimension (mm)

92 × 92 × 25

Speed(RPM)

1600

2000

2400

800 ~ 3,000

Airflow (CFM)

29.55

37.3

44.05

54.5 (max.)

Noise(dBA)

23

28

33

38 (max.)

Rated voltage(VDC )

12

Input Current(Amp)

0.168(max.)

0.228(max.)

0.3(max.)

0.456(max.)

Consuming power(watts)

2.016(max.)

2.736 (max.)

4.32(max.)

5.472(max.)

MTBF(hours)

40000/35000

Safety

TUV,UL,CE
Company continues its manufacturing legacy with the launch of it's high performance, fast cooling CPU coolers. The 6100CU series is also available in four different models- 6100Cu Silent/6100Cu Silent (E), 6100Cu Light/6100Cu Light (E), 6100Cu/6100Cu (E) and 6100Cu PWM/6100Cu PWM (E). The 6100CU series models weigh 508 grams as compared to the 6100 Series which is as light as 411grams. Overclockers were also kept in mind when designing the 6100 CU series.