Hitachi reveals 7mm-thick 2.5-inch hard drives
Hitachi GST today announced Z-Series HDD, which is just 7mm thick, makes it industry's highest capacity 7mm 2.5-inch drive in a one-disk design . The new slim  Z-Series includes Travelstar Z7K320 Family, Travelstar Z5K320 and CinemaStar Z5K320 Family and will be available in 160GB, 250GB and 320GB capacities.
Shift from 9.5mm 2.5-inch drives to 7mm 2.5-inch drives, Hitachi's new  Z-series family of Travelstar and CinemaStar drives are designed as a direct replacement for today's standard 2.5-inch hard drives.  The drives features SATA 3.0 G/s interface and all common connectors and common mounting points for easy integration. Travelstar Z5K320 family (5400 RPM, 8MB cache)volume shipments will begin in July, while Travelstar Z7K320(720 RPM, 16MB cache) and the CinemaStar Z5K320(specifically designed for A/V streaming devices) drive families will begin in August.
"The relentless pursuit for thinner, lighter and lower cost notebook PCs is impacting the design requirements of all PC components, including hard disk drives," said John Rydning, research director at IDC. "Hitachi's plan to satisfy these design requirements with its new 7mm z-height, one-disk, mobile 2.5-inch hard disk drive, along with its strategy to make it price-competitive with standard 9.5mm products, should drive broad adoption."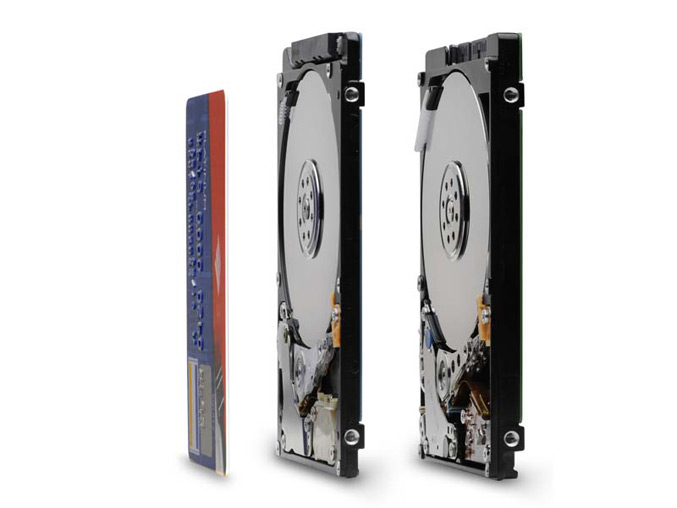 Source: Hitachi GST