HP today announced the launch of a new display technology for the personalization of consumer electronics products.
Electronic Skins, or eSkins, is a flexible reflective color film that can be applied to a variety of devices – including mobile phones, digital cameras, MP3 players, netbooks and notebooks. eSkins also can reflectively display icons and alpha-numeric characters.
HP eSkins technology offers brand manufacturers new ways to personalize their products with an electronically controlled color surface created using HP's breakthrough roll-to-roll manufacturing platform. Designed to make fine-scale circuitry on plastic substrates, the platform processes flexible screens in rolls rather than individual sheets, offering the potential for more cost-effective manufacturing.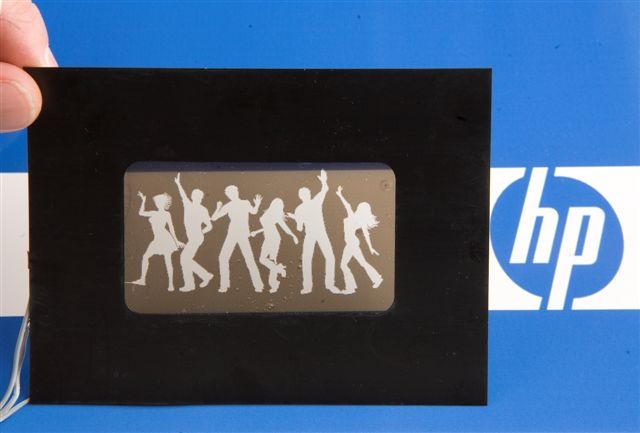 "Consumer electronics manufacturers who integrate HP eSkins technology into future products can benefit from HP's expertise and innovation in ink technology and deliver print-like color performance," said Ken Abbott, director, Emerging Technology, Technology Development Organization, Inkjet and Web Solutions Business, HP. "HP's eSkins technology allows our partners in the consumer electronics industry to further differentiate their products by introducing a dynamic, durable and reflective digital surface to enable new design freedom."
This new device architecture is compatible with roll-to-roll plastic circuits that can be combined with proprietary, electrically controllable "inks" to achieve print-like color performance, as well as transparency. Using a technology similar to color printing, HP is developing the capability to produce specific "ink" colors within the PANTONE MATCHING SYSTEM® range. The vibrant, print-quality colors have excellent visibility in direct sunlight and can electronically shift into a transparent state, revealing the surface below the eSkins film.
HP at Display Week 2009
At Display Week 2009, Tim Koch, research and development manager for the Technology Development Organization at HP, will offer a technical presentation on the HP roll-to-roll manufacturing platform on which eSkins technology was developed. The presentation will take place at noon on Thursday, June 4, in Room 217A/B. The conference, hosted by the Society for Information Display, is being held May 31 to June 5 at the Henry B. Gonzalez Convention Center in San Antonio.
Additionally, HP will present two technical papers on Multicomponent Oxide Transistors, which are enabling a new generation of display technology with higher refresh rates, increased speeds and better stability:
* "Zinc Indium Oxide TFTs for Active-Matrix-Display Backplane" (session 21), by Randy Hoffman, senior engineer, HP, on Wednesday, June 3, at 10 a.m. CT in Ballroom C21
* "Fabrication of Zinc Tin Oxide TFTs by Self-Aligned Imprint Lithography (SAIL) on Flexible Substrates" (session 58), by Warren Jackson, senior researcher, HP, on Friday, June 5, at 9:40 a.m. CT in Ballroom C1
Source: HP