HP will begin using the drives in storage arrays next year

Hewlett-Packard Co. said it began shipping 300GB 2.5-in. drives to worldwide resellers this week. The new drives offer double the capacity of its previous 2.5-in. serial-attached SCSI (SAS) hard disk drives. HP said the new drives, which it produced with Seagate Technology LLC, use 75% less power and 70% less space than its high-end 3.5-in., 15,000-rpm drives.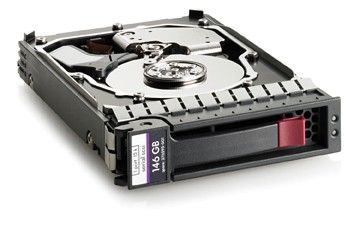 The new 300GB drives spin at 10,000 rpm and are designed for data center applications. Currently, HP's highest capacity 3.5-in. enterprise-class drive holds 450GB of data. HP said the drives are priced at $689.
Mark Ross, associate director of computer operations with the technology services unit at Indiana University's Kelley School of Business, said he's excited about using the new 300GB drives in his eight HP Proliant DL380 G5 servers and his single MSA 2000 modular storage array. "I'm thrilled to death to see smaller form factor drives as fast as the previous enterprise-class SCSI drives we were using," he said. "They use less power and put out less heat. And you can fit more in the same space. That's cool."
Ross, who currently uses 146GB SAS drives, said he's particularly looking forward to installing the smaller drives in his storage array. The array was using 12 3.5-in. serial ATA drives, but it can now handle up to 24 2.5-inch SAS drives in a 2U (3.5-in.) rack.
"Suddenly, we can get 6TB in a single shelf. And the drives are fast," he said.
Jimmy Daley, product marketing manager in HP's Industry Standard Servers group, said as SAS interface speeds increase next year to 6Gbit/sec. and feature more volume pricing, he expects a transition from Fibre Channel drives at the high end. "Midrange and high-end storage vendors are all putting together plans to adopt small-form factor drives. But, we certainly have to get to 6Gbit/sec. SAS first," he said.
HP has been pushing its smaller drives to resellers. Currently, 2.5-in. drives make up 80% of its shipments to enterprise-class server vendors, Dailey said, adding that adoption of the drives is about to take off in external storage systems that would be used in storage-area networks and network-attached storage.
"We do see adoption of these in our MSA [mid-range disk arrays] next year," he said.
Source: Computerworld