Lexar Media, a leading global provider of memory products for digital media, announced its revved-up line of Crucial solid-state drive (SSD) products – the fastest, highest capacity Crucial SSDs to date. The most dramatic change in this new generation of Crucial SSDs is the blazing-fast read and write speeds. The flagship 256GB Crucial M225 SSD screams at an impressive 250MB/sec read speed and a 200MB/sec write speed. The new Crucial SSDs enhance system performance by improving operating system boot and application load times. They also utilize a SATA 2.0 (3Gb/s) interface and feature MLC NAND flash components housed in an industry standard 2.5-inch drive enclosure, making a Crucial M225 SSD easy to install.
"By upgrading their system with a solid-state drive, mobile computer users will enjoy a faster, more rugged system with storage built for mobility. The fact that SSDs don't have any moving parts makes Crucial solid-state drives quieter, cooler, and more durable than traditional hard drives," said Robert Wheadon, Lexar Media's senior worldwide product marketing manager.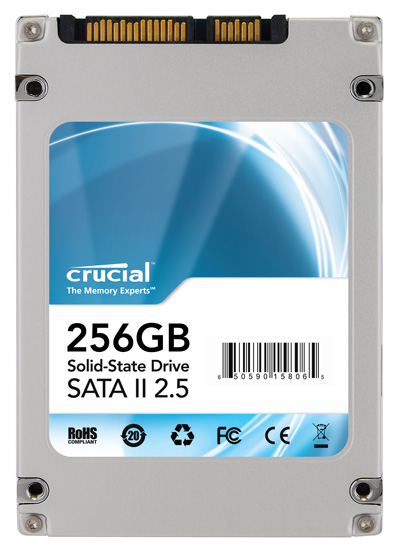 The benefits of an SSD aren't limited to notebooks; the Crucial SK01 External Drive Storage Kit (sold separately) is compatible with all three Crucial M225 solid-state drive products. This innovative device delivers the benefits of SSD technology to a user's desktop, or as a portable storage device via a USB port. The kit includes a 2.5-inch USB 2.0 external enclosure, a 3.5-inch SATA 3Gb/s hot-swappable drive bay, and a 5.25-inch drive bay bracket. The Crucial SK01 kit comes with a five year limited warranty.
Visit www.crucial.com/ssd, www.crucial.com/uk/ssd, or www.crucial.com/eu/ssd to take advantage of free online tools, such as the Crucial SSD Advisor tool, which allows customers to find a compatible SSD simply by choosing their system make and model from a drop-down menu. Additionally, an online flash-based installation guide demonstrates how easy it is to install a Crucial M225 SSD.
Crucial SSDs are available in 64GB (currently $169.99/£104.99/€120.99), 128GB (currently $329.99/£201.99/€143.99), and 256GB (currently $599.99/£367.99/€424.99) capacities online at www.crucial.com/ssd, www.crucial.com/uk/ssd, or www.crucial.com/eu/ssd, and through select channel partners. The new Crucial SSDs also feature a five year limited warranty.
Source: Businesswire