Acer announced a new monitor from its gaming series, which they claim is the first on the market to deliver Full HD 3D imagery via HDMI 3D connectivity.
The gamers friendly 23.6- inch HS244HQ 3D monitor boasts Full HD 1920×1080 LED backlit panel with a 120Hz refresh rate. It offers dynamic contrast ratio of 12,000,000:1, brightness of 300 cd/m2 and fast response time of 2ms. The monitor feature "an intricate vent" design, has a teardrop-shaped power-key and is equipped with touch-sensitive controls.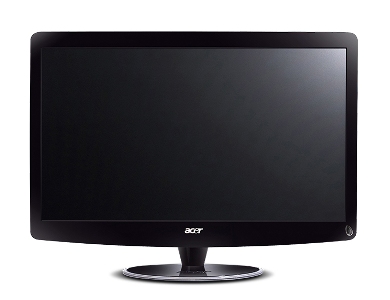 The HS244HQ is backed by Acer eColor Management feature, which optimizes image performance in common usage scenarios for an improved, more enjoyable viewing experience. Also Acer Adaptive Contrast Management (ACM), which dynamically adjusts the contrast ratio to "achieve ultra-sharp images." Here is and Acer's patented backlight modulation that saves "50% more power than other 3D displays without this technology." And of course Acer's active shutter 3D technology, which manufacturer claims presents brighter, more comfortable 3D visuals and considerable power savings compared to other solutions.
The Acer HS244QS display is backed by 2-year warranty and comes bundled with Acer 3D glasses, featuring advanced active 3D shutter technology, and built-in IR emitter which allows to connect the monitor to a set-top box or Blu-ray Disc player via HDMI and enjoy 3D broadcasting or the latest 3D movies.