ASUS has announced two new gaming monitors at its Republic of Gamers Unleashed event in San Francisco, USA. As you can imagine the two new ASUS products belong to the company's Republic of Gamers (ROG) line and carry the PG279Q and PG27AQ product names.
The new displays feature the same 27-inch size but they have some specific differences that make each model suitable for particular games. The PG279Q monitor features a 27-inch WQHD IPS display that works at 2560 x 1440 pixels and comes with a refresh rate of 144 Hz. When paired with a GeForce GTX 960 video card (or better) the refresh rate can be boosted to 165 Hz and there's even a button that allows users to switch between these two modes on demand. The display also features a contrast ratio of 1000:1, peak brightness of 350 nits, 4 ms of response time, 178-degree viewing angles, 16.7 million colors, two 2W built-in stereo speakers, two USB 3.0 ports, 3.5 mm audio jacks, HDMI 1.4 and DisplayPort 1.2 connectors and finally NVIDIA G-Sync and NVIDIA Ultra Low Motion Blur technologies. As you can see the PG279Q is a perfect solution for gamers that play fast-paced first-person shooters but it won't come to you cheap – the PG279Q will sell for USD 799 when it arrives in November.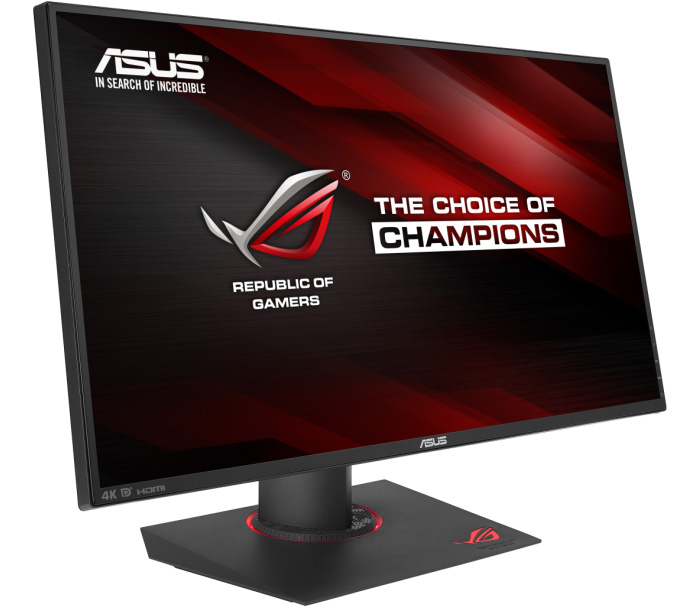 The second model – the PG27AQ – has the same 27-inch display size but it offers a much improved resolution of 3840 x 2160 pixels at 60 Hz of refresh rate. The PG27AQ shares most of the tech specs with the PG279Q and thus it comes with the same response time of 4 ms, a contrast ratio of 1000:1, IPS display technology, 178-degree viewing angles, DisplayPort 1.2/HDMI 1.4/2 x USB 3.0/3.5 mm audio connectors and 2 x 2W stereo speakers. The PG27AQ, however, comes with 300 nits of peak brightness and a greater 10-bit color depth that allows 1.07 billion colors to be displayed. The PG27AQ is clearly designed for RTS and simulation games but it comes only with NVIDIA's G-Sync technology which is a slight drawback compared to the PG279Q. There's no information how much the PG27AQ will cost and when it will be available on the market so this will be announced later.
Source: Anandtech