In the graphics card industry every manufacturer is particularly focusing on development and research for special thermal solutions. No matter how strong a product's performance, if it is not possible to guarantee stable and low temperature operation at all times, such high performance doesn't make a good product.
This is especially the case for high-end products which can easily consume more than 150W and therefore need advanced thermal provisions. In order to meet the particular thermal dissipation demands of power users, the global high-end graphics card and professional motherboard manufacturer MSI Technology, introduced their exclusively developed Twin Frozr thermal design. This brand new thermal design incorporates a dual fan, 5 heatpipes, an extra large heat sink and a copper-nickel base. When compared to reference fan designs of the same level MSI's thermal solution is by far exceeding in performance and low temperature, making it one of the best design available on the market today.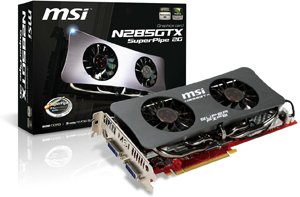 High-performance and noise-controlled dual fan design
When it comes to the component level in thermal solutions, fans, bases and heat pipes etc. represent important parts that more or less have an impact on the overall heat dissipation MSI's exclusive Twin Frozr thermal design pays particular attention to those three essential components in order to improve heat dissipation efficiency. Take for example the dual fan design which resembles a turbo-propeller fighter concept, giving it not only a more attractive appearance but more importantly improves the overall airflow and convection, and thereby increasing cooling efficiency by more than 50%. In order to address any potential noise issue, the fan speed is automatically temperature-controlled by dual-PWM fans, resulting in the optimum balance between cooling performance and noise.
Powerful cooling by the incorporation of 5 heatpipes, an extra large heat sink and a copper-nickel base
As for the heat dissipation, Twin Frozr is equipped with an extra large copper-nickel base heat sink that prevents heat accumulation and at the same time enhances heat transfer. In addition the industry's one and only 5 heatpipe design maximizes heat transfer to the heat sink fins which substantially improves cooling efficiency. With high-end products such as e.g. the N285GTX, the integrated SuperPipe technology allows for an even more heat transfer resulting in further efficiency increases

Dual fan design can increase heat dissipation by 50%

Industry's one and only 5 heatpipes design

Large heat sink fins and copper-nickel
base to avoid heat accumulation and improve heat transfer
It is precisely because of the improvement in key cooling components that Twin Frozr thermal design in field tests with similar reference design solutions of other manufactures outperformed those by almost 8 degrees Celsius, regardless if under low or high load. This clearly shows the Twin Frozr's outstanding thermal performance. At present this technology can already be used on a wide range of high-end NVIDIA graphics cards such as the GTX 285, GTX 275 and GTX 260 etc. This is the perfect solutions for users who demand high performance and low temperatures at the same time.
Twin Frozr Thermal Design Product Comparison Table

Source: MSI