Proving fun and education can mix, Dell and Nickelodeon today announced the Dell Inspiron Mini Nickelodeon Edition, a cool new netbook computer that represents the ultimate in personalization. Designed specifically for kids, the Dell Inspiron Mini Nickelodeon Edition sports Nickelodeon's trademark green slime yet is loaded with entertaining and educational content that will also appeal to moms and dads.
The Dell Inspiron Mini Nickelodeon Edition opens a window to entertainment and education that parents can easily monitor and control as children grow more Internet savvy. It's a durable and highly portable netbook that joins together excellent technology, content, parental controls and shopping security from the trusted names of Dell and Nickelodeon.
Designed with kids in mind, the Dell Inspiron Mini Nickelodeon Edition is wrapped in an eye-catching, Nickelodeon-inspired "slime" artwork scheme.
Additional designs based on Nickelodeon hit properties of iCarly and SpongeBob SquarePants, will also be available at Dell.com's Design Studio.
Weighing less than 3 pounds, the Dell Inspiron Mini Nickelodeon Edition can be easily carried by kids from room to room, house to house or on the road. Based on Dell's popular Inspiron Mini 10v netbook, it features a bright 10.1-inch color LCD display and built-in wireless Internet access.
Dell's first kids-focused product, the Inspiron Mini Nickelodeon Edition will be available online in the United States at Dell.com and on Walmart store shelves and Walmart.com in October, just in time for the holidays. Pricing and other details will be announced prior to first shipments.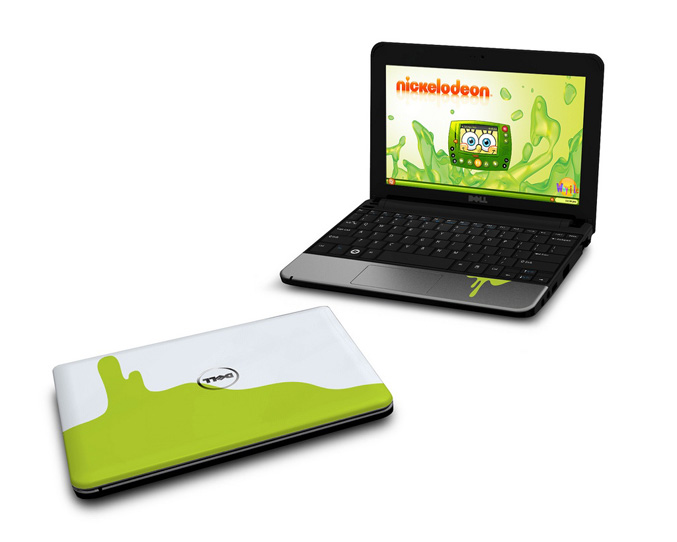 "Moms insisted that we deliver on three things when it comes to a computer for their children," said Michael Tatelman, vice president, Dell Global Consumer Sales and Marketing. "First, help provide a safe computing experience. Second, provide superior educational content as well as a world-class entertainment experience. Third, partner with trusted brands. The Dell Inspiron Mini Nickelodeon Edition passes with flying colors on all counts."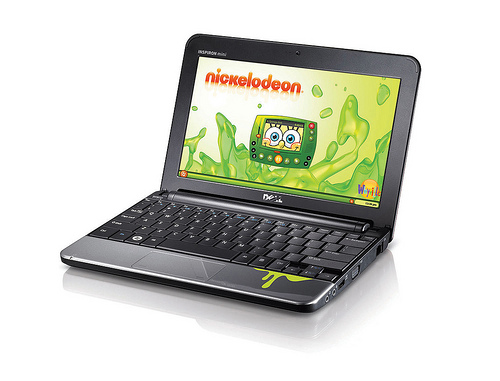 "We are thrilled to enter the Netbook space with a technology leader like Dell," said Leigh Anne Brodsky, president of Nickelodeon & Viacom Consumer Products. "With the Dell Inspiron Mini Nickelodeon Edition, we want to provide today's tech-savvy kids with a creative, fun tool to help kids excel while learning and entertaining themselves on the computer. Simultaneously, we want to give parents features to help ensure their kids are safe online. The Dell Inspiron Mini Nickelodeon Edition encompasses all of these things with the additive element of bringing Nickelodeon's trademark slime to life in a new, unique way."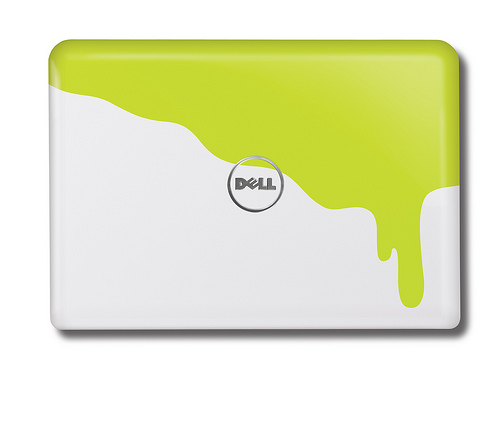 Personalized, Unique Content
It's easy and safe for kids to send and receive e-mail, chat with new friends, challenge SpongeBob SquarePants in an online game, listen to their favorite tunes, watch their favorite programs or join a fun-filled virtual world that challenges them to expand their learning horizons.
Each Dell Inspiron Mini Nickelodeon Edition features an easily personalized user interface — developed exclusively for Dell by Stardock Systems Inc. — with Nickelodeon-branded desktop wallpaper and icons that give a truly unique, kid-friendly experience. The Nickelodeon-themed interface provides fast, easy and direct access to dedicated Web portals that serve up dynamically updated content at dedicated Dell "landing zones" at Nick.com. A special Dell-exclusive "Just for You" widget on the Inspiron Mini Nickelodeon Edition lets kids select their own dynamically updated content from Nick.com including the latest games and TV programs.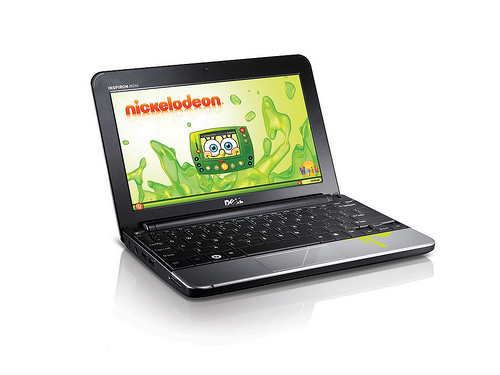 In addition, the Dell Inspiron Mini Nickelodeon Edition will include a desktop animaticon linked to educational content from Whyville.net, where kids can actively participate in educational activities and games sponsored by authoritative organizations such as NASA, Scholastic Publishing, the Centers for Disease Control and the Woods Hole Oceanographic Institution. For example, in one project sponsored by the University of Texas System and the School Nutrition Association, Whyville's citizens elect to eat breakfast, lunch and dinner each day, and a nutrition calculator then determines their state of health.
The system comes with easy set-up directions and includes a 15-month subscription to McAfee Family Security, which provides comprehensive parental controls to carefully direct and monitor kids' online activities. As kids grow, parents can relax the controls at their own pace. And if it's lost or stolen, the Dell Inspiron Mini Nickelodeon Edition can report its location on the Internet with its built-in LoJack for Laptops anti-theft program.
Source: Dell