MSI has revamped its G-Series of laptop computers, making them better than ever. This new generation of super-fast gaming computers, which includes the 17-inch GT740, GX740, and GE700 and the 16-inch GT640, GX640, and GE600, uses Intel's Calpella platform as well as Intel's latest New Core™ processor and Microsoft's Windows 7 operating system. All come with advanced 3D discrete graphic cards for realistic audiovisual enjoyment.
Sam Chern, Director of MSI's NB Marketing Department, points out that the all-new G-Series of laptops are equipped with Intel® New Core™ processors and the internal workings have received a complete overhaul. The new discrete graphic cards, for example, have enhanced overall performance by more than 30% and 3D picture and image processing capabilities by more than 50% over same-class NBs of the past. And whether you're slashing orcs at turbo boost speeds or enjoying a Blu-ray movie, the ground-pounding sound cranked out by the SRS-certified 7.1 channel audio output makes your experience more life-like and enjoyable.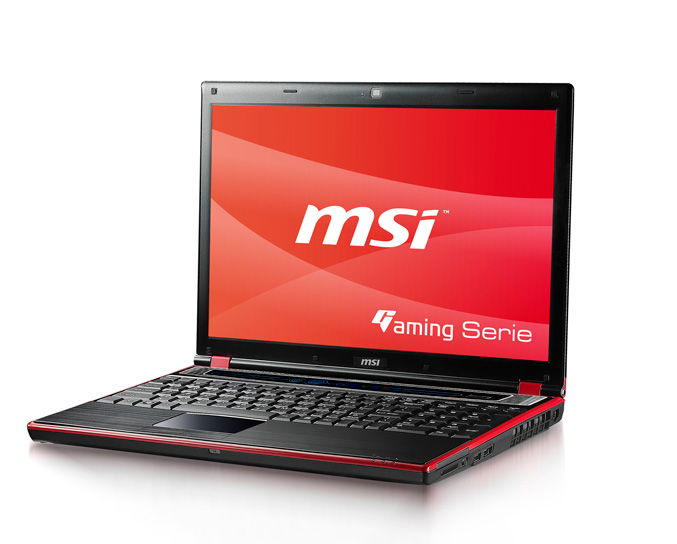 Best NBs on the planet
The MSI GT640 and GT740 come with the Windows 7 operating system, the new generation Intel® Core™ i7 quad processor, and the advanced nVIDIA GeForce GTS 250M 3D discrete graphic card (DDR3 1GB of display memory). The unparalleled specs of the hard/software provide the ultra-high performance processing needed by the serious gamer.
The GX640, GX740, GE600, and GE700, come equipped with Intel's latest Core™ i5 duo core processors and industry-leading ATi Mobility Radeon HD 3D discrete graphic cards (1GB VRAM) which support Direct X 11, giving these NBs the best display performance in the world in terms of rich colors and clear pictures.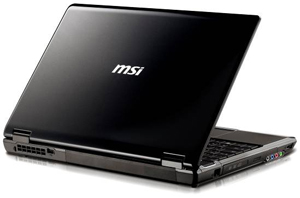 The entire MSI G-Series of laptops incorporates the Intel® NEW Core™ processor, allowing them to outperform predecessors by a minimum of 30%. The latest turbo boost technology works to distribute system resources efficiently and the all-new Intel® Hyper-Threading technology cranks up processor efficiency. The Smart Cache technology and the Graphics Media Accelerator HD technology boost performance of multimedia image accessing and operations. So whether you're blasting away at aliens in a 3D game or taking in a film, MSI's overclocking technology will take you there.
The ultimate multimedia experience
MSI's all-new G-Series laptops come equipped with the latest generation of soft/hardware, including SRS-certified Premium Sound™ speakers and embedded digital 7.1 channel optical audio output. To deliver awesome sound, the 17″ GT740 and GX740 NBs have five speakers—two hi-fi 3D speakers above the keyboard, two more along the front, and a woofer under the base.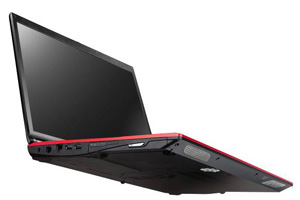 The MSI G-Series of notebooks utilizes MSI's vivid image enhancing technology to optimize hardware performance for richer, crisper images and throbbing audio to maximize the cinematic experience. MSI's G-Series NBs not only maximize your gaming experience, the HDMI (High-Definition Multimedia Interface) make them unrivaled digital media centers.
The aesthetics of gaming
The ultra-light, ultra-thin GT740, GX740, GT640, and GX640 all come with brushed aluminum alloy cases with fire engine red trim and state-of-the-art luminescent touch sensor control panels to highlight the advanced technology and aesthetics of the MSI G-Series. The hi-fi 3D speakers above the keyboard are set under polished metal covers and a luminescent touch sensor control panel is located below the keyboard, giving the gamer the feeling that she's in the cockpit of a futuristic interstellar fighter. Outstanding performance coupled with ultramodern aesthetics and rocking sound output make the G-Series a gamer's dream.
The exteriors of the GE600 and GE700, two other new members of the family, incorporate cutting-edge Color Film Print technology, futuristic touch panel keys that have undergone special color processing and a glossy decorative panel along the front edge to give them a futuristic and minimalist feel all at once.
Diversity in multimedia entertainment
The all-new MSI G-Series of NBs boast a comprehensive multimedia application interface. With an external data transfer rate of up to 3 Gb/s, the e-SATA is six times faster than the conventional USB2.0. No other external data transfer solution can compete with its speed and ease of use. You never have to worry again about losing photos, videos, and other data you cherish as you back it up on to external storage devices. The embedded 802.11 b/g/n wireless internal network utilizes diversified and high-speed network functions to enable gamers to conquer the universe without a tangle of wires.
Furthermore, keeping in line with the fine tradition of the MSI G-Series, the GT740, GX740, GE700, GT640, and GX640 are designed specifically with gamers in mind. This is evidenced in such details as the W, A, S, D keys being highlighted in fire engine red and an independent number keypad, secret weapons that help gamers conquer foes as efficiently as possible. The MSI G-Series marks the latest stage in the evolution of gaming NBs and is slated to knock them for a loop at the CES 2010.
Source: MSI