Reviewed by: Rory Reid
Reviewed on: 27 November 2007
Packard Bell isn't the first brand that springs to mind when we think of gorgeous laptops. But the company aims to change perceptions with its latest range, which includes the stylish EasyNote MB. It's designed to appeal to anyone with one eye on design, and the other on value. You can pick one up from your local Dixons for £699.
Design
The EasyNote MB is, on the whole, a pretty laptop — and a 'Limited Edition' according to one of the stickers. It's far from perfect, but the white chassis and orange side stripes seems to work pretty well — if you like orange, obviously. Some of us in the CNET.co.uk office liked it, others were less impressed, but Packard Bell deserves credit for trying something a little different.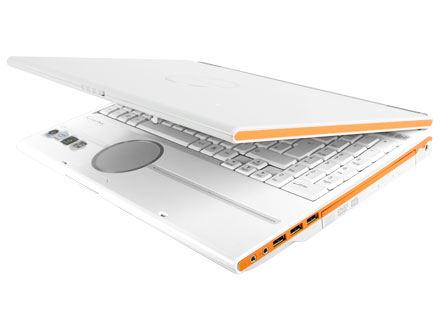 Other inventive design touches include the left and right mouse selector buttons, cleverly moulded into one piece of plastic. Then there's the circular mouse trackpad, which mirrors the circular Packard Bell logo on the lid. It's gorgeous, but it's too small and bears no resemblance to the shape of the screen, which hinders usability.

Packard Bell seem to have missed the memo that says blue LEDs are the 'in' thing. Here, white is the new blue, as indicated by the white strip running either side of the mouse trackpad. It's utterly pointless and becomes annoying — particularly when you use the laptop in dark or dimly lit rooms. Fortunately it can be switched off by hitting a button above the keyboard.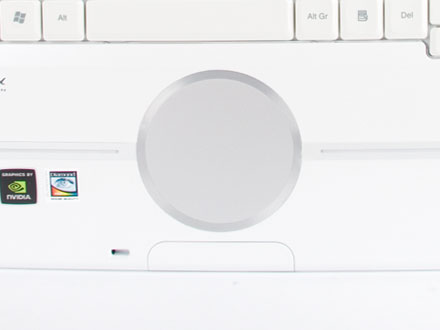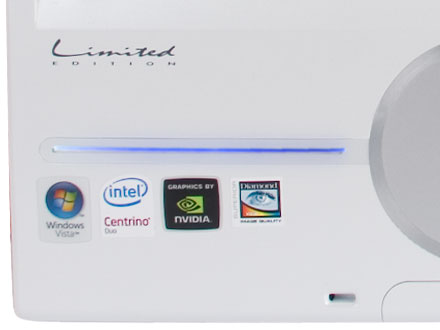 One of the most curious additions is a button labelled 'Eco'. Pressing this dims the screen by approximately 20 per cent to save power. Again, this is ultimately quite pointless, as the same thing can be achieved by using the standard 'Fn' keyboard shortcut for adjusting screen brightness.
Despite the quirkiness and many potential design pitfalls, the EasyNote MB manages to remain inoffensive. It certainly won't be to everyone's taste, but the only real flaw we could find was the beige keyboard, which looks desperately old-fashioned.
Features
£699 buys you some interesting looks and some decent internal components. A 1.66GHz Intel Core 2 Duo T5450 provides the bulk of the grunt, while 2GB of RAM helps applications run smoothly. 160GB of disk space is about what you'd expect from a laptop at this price point, and the DVD rewriter drive living on the right side is, again, par for the course.
Packard Bell provides a semi-potent graphics card in the form of an Nvidia GeForce 8600 M. Don't expect it to run all the latest games at high speed, but it won't let you down if you fancy a quick blast of F.E.A.R, Unreal Tournament or Doom 3, as long as it's at low resolution. Interesingly, Packard Bell has supplied DVI as well as HDMI video outputs — something seldom seen on laptops. Both are HDCP-enabled, but as there's no Blu-ray or HD DVD drive, you can't watch high-definition movies on the laptop.
Standard-definition video looks absolutely fine on the laptop's 15.4-inch widescreen display. It runs at a native resolution of 1,280×1,024 pixels, and is bright enough to use outdoors despite the glossy coating. There is some noticeable light bleeding from the bottom of the screen, and the contrast level seems a tad lower than we'd like, but there's no real cause for concern in this area.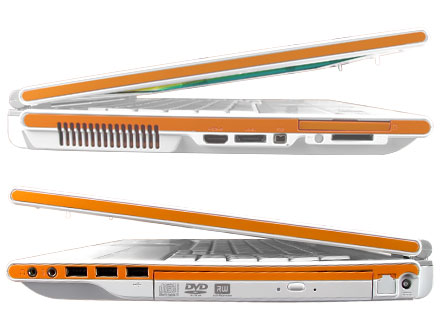 The EasyNote MB has plenty of connectivity. There's an e-SATA port on the left for connecting external hard drives, a mini six-pin FireWire port, and a multimedia card reader. Interestingly, there's an aerial socket that's been blanked out — hinting that the laptop is capable of accepting a TV tuner. But Packard Bell has chosen not to bother with this.

On the right, you'll find audio ports and three USB ports laying horizontally side by side. They're a tad too close for our liking — some large USB devices can block adjacent ports. Round the back you get another USB port alongside the Ethernet port.
All the other little luxuries you expect from a modern laptop are present and correct. The EasyNote MB has 802.11b,g Wi-Fi, a webcam, and a copy of Norton 360 to keep all those Net-borne nasties at bay. The operating system supplied is Windows Vista Home Premium Edition.
Performance
The 1.66GHz CPU helps the EasyNote MB chug along at a good pace. It clocked up 4,204 in PCMark 2005, which is what the average user should expect from a modern laptop.
It also racked up 2,686 in 3DMark 2006, which again indicates the laptop will run some fairly graphics-intensive applications, just not necessarily high-resolution games.
Conclusion
The EasyNote MB has an interesting, if slightly flawed design, but is good value for money. You may prefer to opt for a higher-price, higher-style Apple MacBook, or the slightly more appealing Toshiba Satellite A210-11P, but the EasyNote MB is the better bet for those with a thing for ivory. And orange.

Edited by Jason Jenkins
Additional editing by Nick Hide
Source: CNET.co.uk