Sony has unveiled the VAIO Q, which is definitely the world's smallest ultrabook. Officially shown on April 1, the ultrabook is so small it looks unreal.
The VAIO Q, however, packs a punch as it comes with a quad-core Intel processor at 3.66 GHz, 8 GB of RAM memory, two 128 MB SSDs in RAID 0 and even has an AMD Radeon HD 6650M graphics card with 1 GB of memory. The Q also boasts a miniature 0.75″ x 1.25″ Full HD 1080p display that can be viewed using a monocle.
Sony claims that a small lithium battery – the type that is usually found in watches, powers the VAIO Q.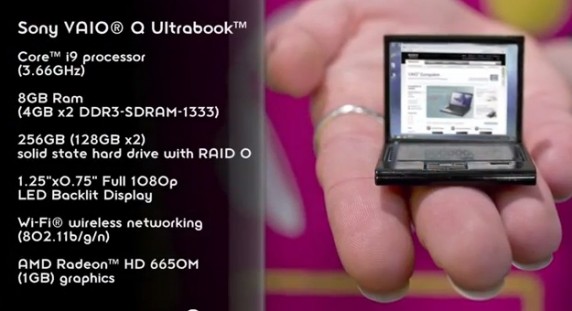 Too good to be true? Unfortunately, yes – the VAIO Q was Sony's April Fool's Day joke – and they did pull it well. Fortunately fans of Sony technology can choose among other real VAIO products found on Sony's web page.
Keep up the good work (and jokes), Sony!
Source: Chipchick.com