When only the very best will do, the breathtaking new VAIO Z Series of ultra-mobile notebook computers from Sony is your ultimate travel companion.
The slim, exquisitely styled new Z Series doesn't compromise on mobility, looks, connectivity or stamina. What's more, it delivers shattering performance to rip through your business computing needs – saving precious time and boosting your personal productivity.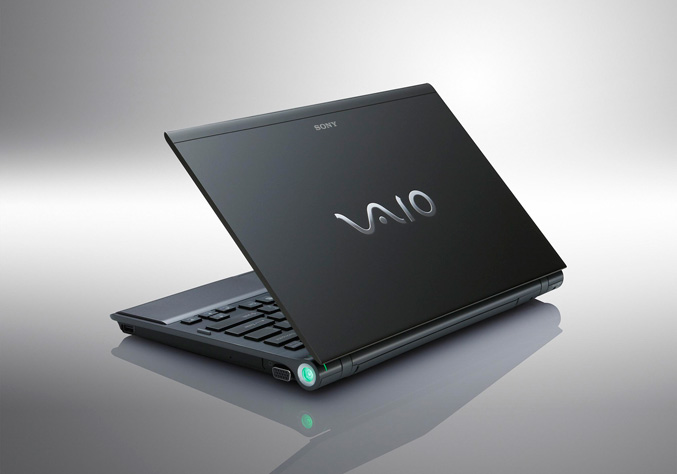 Alongside up to 6GB of RAM to handle your applications, The Quad solid state drives can write data in parallel on a maximum of four SSDs, making process at incredible speeds. Smaller and lighter than conventional HDD arrays, it's tearing through file transfers up to 6.2x faster (compared with HDD 5400 rpm) to save precious time when every second counts.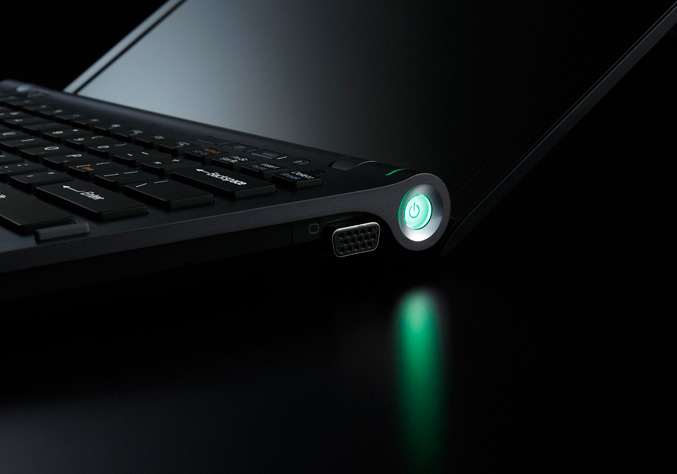 Graphics performance is often sacrificed on ultra-portable notebooks – but not with the new VAIO Z Series. The integrated NVIDIA® GeForce® GT330M graphics chipset with 1GB GDDR3 VRAM makes light work of media-rich documents, presentations, movie playback and more. A new Dynamic Hybrid Graphics System intelligently optimises performance to match your workflow. As an alternative to manually selecting graphics modes, AUTO mode detects usage conditions, switching automatically between STAMINA and SPEED modes to suit the task at hand.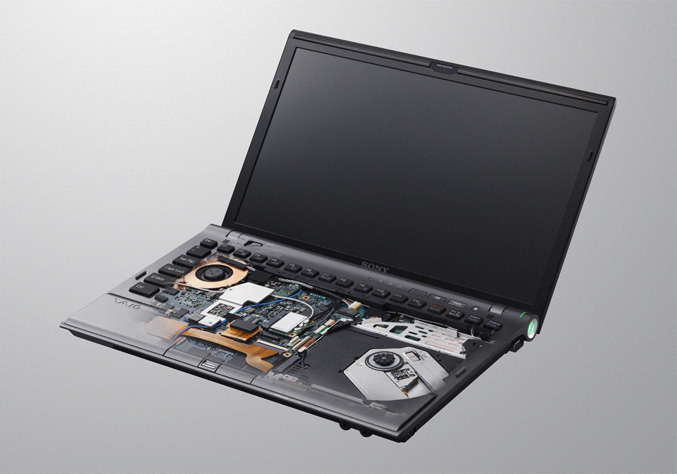 Weighing below 1.45kg, the all-new VAIO Z Series is crafted to the highest standards in weight-saving yet durable carbon fibre and aluminium for maximum portability and robustness. Enhancing the notebook's beautiful design, the tough yet light palmrest is precision-machined from a single thick slab of aluminium.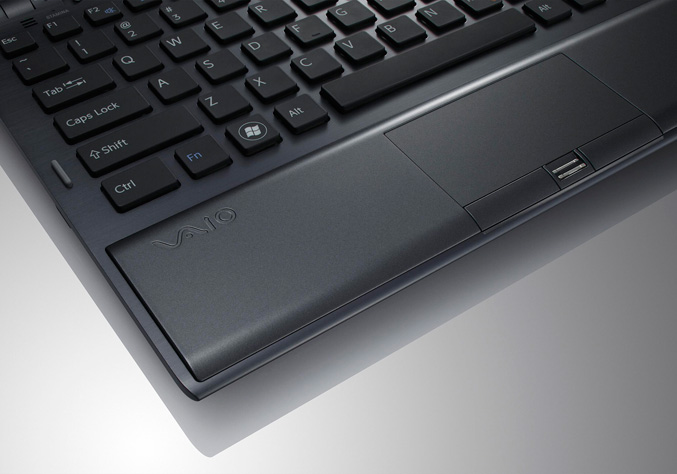 Whether you're fine-tuning a presentation or enjoying your personal media collection, you'll get a better picture with the Full HD 1920 x 1080 (model VPCZ11Z9E) VAIO Display Premium. Measuring 33.3cm (13.1"), this high-efficiency screen with LED backlighting offers exceptional brightness, clarity and contrast. An exceptionally wide colour gamut of 96% Adobe RGB coverage ensures rich, vibrant reproduction of Full HD video and still images.
Extreme performance and mobility doesn't come at the expense of business-class comfort. A built-in ambient light sensor detects when ambient surroundings are dark, automatically switching on keyboard backlighting for accurate typing while dimming screen illumination to save power.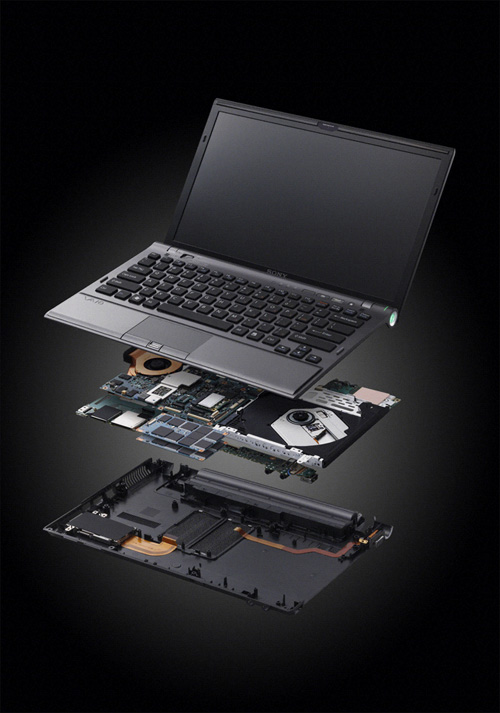 For extra convenience and peace of mind, a front panel-mounted ASSIST button gives one-touch access to VAIO Care. This easy-to-use new programme helps maintain, diagnose and troubleshoot your VAIO with just a few clicks.
Productivity is expanded further with VAIO Everywair 3G mobile broadband, connecting you to high-speed networks while on the move.
Powered by the latest generation of power-efficient Intel® Core™ processors, every new VAIO Z Series model is shipped with Genuine Windows® 7 Professional for best-ever business productivity.
A full range of add-ons includes a dedicated docking station, leather cases, mice and extended batteries. You can pre-order the new VAIO Z Series from Sony Style (www.sonystyle.eu) and enjoy a range of exciting options including noise-cancelling in-ear headphones and 8GB of memory. There's also a choice of exclusive case patterns that add a luxuriously distinctive touch to your VAIO.
The new VAIO Z Series of high-performance ultra-mobile notebook computers by Sony is available from the end of March 2010.
Model

VAIO VPCZ11Z9E

VAIO VPCZ11X9E

Processor

Intel® Core i7-620M 2.66GHz with Intel® Turbo Boost Technology (max. 3.33 GHz)

Intel® Core i7-520M 2.4GHz with Intel® Turbo Boost Technology (max. 2.93 GHz)

OS

Genuine Windows® 7 Professional

(64-bit)

Genuine Windows® 7 Professional

(64-bit)

Memory

6GB DDR3 SDRAM (1066 MHz)

4GB DDR3 SDRAM (1066 MHz)

SDD

Quad SSD (RAID 0) 256GB

Quad SSD (RAID 0) 128GB

Screen

33.3cm (13.1") 16:9 VAIO Display Premium (1920×1080) with LED backlight

33.3cm (13.1") 16:9 VAIO Display Premium (1600×900) with LED backlight

Graphics

NVIDIA® GeForce® GT 330M GPU + Intel® HD Graphics with 1GBB GDDR3 VRAM

NVIDIA® GeForce® GT 330M GPU + Intel® HD Graphics with 1GBB GDDR3 VRAM

Optical drive

DVD+-RW/+-R DL/RAM

DVD+-RW/+-R DL/RAM

Weight & size

1.43kg (with supplied battery);

210 x 23.8-32.7 x 314 mm (D x H x W)

1.41kg (with supplied battery);

210 x 23.8-32.7 x 314 mm (D x H x W)

Others

WLAN 802.11a/b/g/n; VAIO Everywair WWAN; Bluetooth 2.1+EDR; keyboard backlight; MOTION EYE camera; HDMI out; VAIO/Assist buttons; fingerprint reader; black finish

WLAN 802.11a/b/g/n; VAIO Everywair WWAN; Bluetooth 2.1+EDR; keyboard backlight; MOTION EYE camera; HDMI out; VAIO/Assist buttons; black finish

Source: Sony