The Taiwanese memory maker has introduced a new external hard drive on the market. The new device – called DashDrive Durable HD710 – comes with an enhanced body that features shock, water and dust protection.
The DashDrive Durable HD710 is also unusual with its connectivity – the device comes with a USB 3.0 data cable that is inseparable from the drive – that is once you finish using the external hard drive the cable goes back to its hiding spot – a separate place designed specifically for storing the connectivity cable. Inside the DashDrive Durable HD710 you can find a 2.5-inch hard drive that comes in 500 GB, 750 GB and 1 TB capacities. The device measures 132 x 99 x 21.5 mm and measures just 220 grams.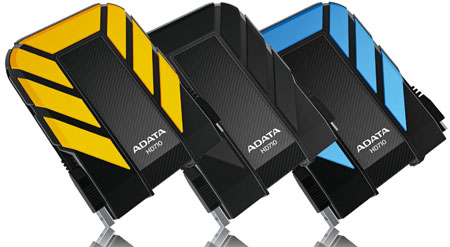 Users will also be able to take advantage of the software that comes with the drive – the A-Data OStoGO and HDDtoGO software as well as a free 60-day trial version of Norton Internet Security 2012.
In order to please every customer A-Data will ship the DashDrive Durable HD710 in three colors – yellow, blue and black – with the bottom of the drive being always black.
All DashDrive Durable HD710 drives come with a 3-year manufacturer warranty.
Source: IXBT