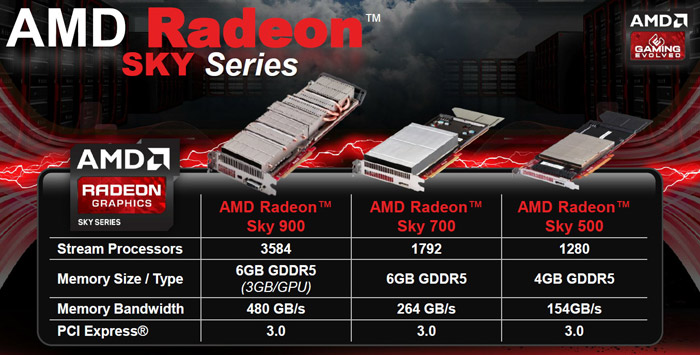 AMD has announced a completely new line of Radeon graphics cards – Radeon Sky. The new cards are designed for cloud gaming and are available now.
The Radeon Sky line consists of three sub-models – Radeon Sky 900, Radeon Sky 700 and Radeon Sky 500. The Radeon Sky 900 comes with 6 GB of GDDR5 memory accessed over a 384-bit bus and 480 GB/sec of bandwidth, a GPU that runs at 825 MHz, 3584 stream processors and 300 watts of TDP.
The Radeon Sky 700 is the mid-range representative that offers 6 GB of GDDR5 memory, a 384-bit memory bus, 264 GB/sec of memory bandwidth, a GPU with 1792 stream processors at 900 MHz and TDP of 225 watts.
Radeon Sky 500 comes with 4 GB of GDDR5 memory, a 256-bit memory bus, 950 MHz GPU with 1280 stream processors, 154 GB/sec of memory bandwidth and TDP of 150 watts.
All new graphics cards are based on AMD's Graphics Core Next (GCN) architecture, fully support PCI-Express 3.0 x16 and make use of passive cooling. Thus the Radeon Sky 900 and 700 use dual-slot cooling solutions while the Radeon Sky 500 uses single-slot cooling. Moreover all new video cards support DirectX 11.1, AMD PowerTune, AMD RapidFire and AMD ZeroCore technologies.
Pricing is unknown.
Source: AMD