In the eve of Christmas day (and shopping for that matter) AMD has announced new Llano processors that come with unlocked multipliers and allow easy overclocking – the A8-3870K and A6-3670K for a price of 135 USD and 115 USD accordingly.
Both new processors come with four computational cores and a total of 4 MB of L2 cache; TDP for both CPUs is 100W. The first processor A8-3870K comes with 400 stream processors while the second – A6-3670K – features 320 of them. What is interesting about these new CPUs is that the graphics core also features an unlocked multiplier and can be easily overclocked.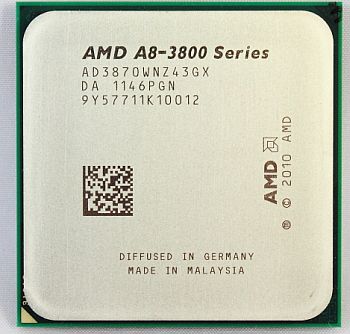 New additions are also A8-3820, A6-3620 and A4-3420. The A8-3820 runs at 2.5/2.8 GHz, comes with four cores and 4 MB L2 cache, 400 stream processors and features TDP of 65W. The new A6-3620 also comes with 4 cores and 4 MB of L2 cache but runs at 2.2/2.5 GHz and features 320 stream processors with TDP of 65W. The junior A4-3420 CPU is a dual core offering with 2.8 GHz core clock speed, 1 MB of L2 cache, 160 stream processors and 65W TDP.
Source: Overclockers.ru