The maker of various PC cooling solutions CRYORIG has announced two new products designed for PC cooling – the compact H7 CPU cooler and the new QF120 fan line.
The H7 combines two crucial features of any CPU cooler – small size and extremely high cooling efficiency. The H7 is based on the larger H5 cooler but brings a smaller size to the table, which makes the cooler compatible with more motherboards and system memory modules. The cooler is based on the well-known HiveFin technology that offers better air management and offers CRYORIG's Zero RAM interference design as well as the company's brand new QF120 cooling fans with Quad Air Inlet technology.
In particular the H7 is equipped with a 120 mm QF120 fan that spins at 330-1600 rpm and even with it the cooler is just 145 mm tall. In addition to this the H7 features an even simpler mounting system. Called X-Bar the system needs even fewer individual pieces and fewer steps to install. The cooler also supports all modern Intel and AMD processors and no separate parts are needed for this compatibility. There is a backplate too that protects the motherboard from experiencing too much stress when the cooler is installed.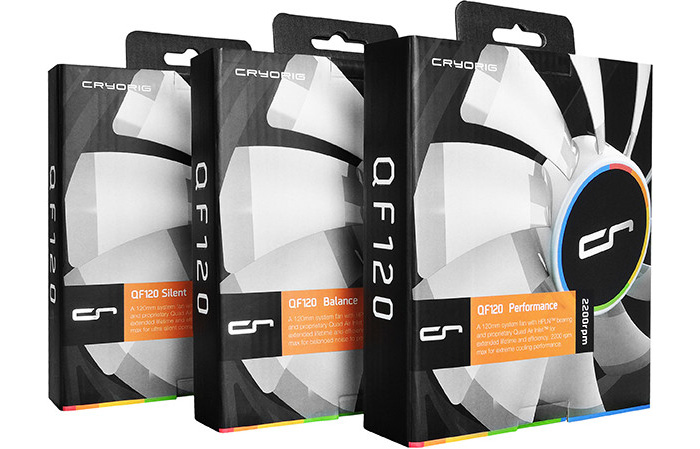 The new QF120 fans offer high performance at low noise levels. The implemented Quad Air Inlet system uses four strategically placed air intakes that allow the static pressure optimized fan blades to take in extra air from the sides of the fan frame thus increasing performance and total air input. The low noise performance is guaranteed by the HPLN High Precision Low Noise bearing that was first featured in the XF140 line. The H7 cooler is available now for USD 34.50.
The QF120 line will have three different models at first. The QF120 Silent comes with ultra low RPM speeds of 200-1000 RPM for a minimum noise level of 5 dBa, which makes it virtually inaudible. The QF120 Balanced fan comes with a moderate fan speed of 330-1600 RPM that ensures low noise and enough cooling power for high load computing needs. The QF120 Performance is a fan that spins at 600-2200 RPM and provides excellent cooling performance. At 2200 RPM speed the fan is twice as powerful as any regular 120 mm cooling fan and provides enough cooling for overclocked components and hot system chassis.
The QF120 fans are on the market now for a price of USD 13.
Source: CRYORIG