The not-so-popular German company EKL, a maker of cooling solutions for PCs, has announced a new and rather unusual CPU cooler that belongs to the company's Alpenfohn product line.
The innovative CPU cooler features a number of modern and specific technologies that help improve the cooling efficiency. This is the reason why the novelty comes with TopFlow design in which the axis is perpendicular to the fan boards plane thus creating three cooling zones. Also, there are six C-shaped 6 mm heat pipes and a 140 mm fan that features an optimized wing design thanks to the featured Wing Boost Technology, which makes it extremely quite even when working at full speed.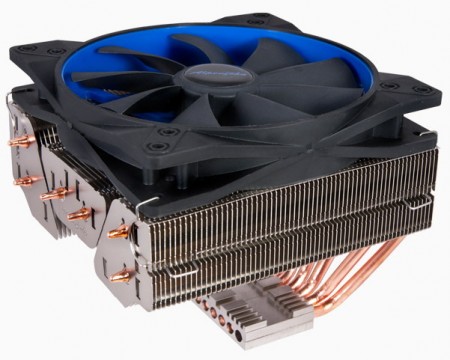 The new EKL Alpenfohn Gotthard cooling fan is also very versatile – it supports all modern CPU sockets including Intel LGA 775/1155/1156/1366/2011 and AMD Socket FM1/AM3(+) and AM2(+).
In Europe this innovative CPU cooler will retail for 57.90 EUR.
Source: Techpowerup.com