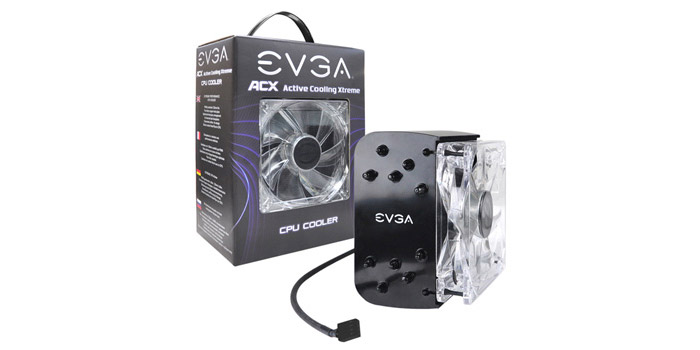 The well-known graphics card EVGA has entered a new market – the US company has launched the ACX processor cooler, which features interesting technologies under the hood.
The ACX is also known by its codename of 100-FS-C201-KR and supports all modern CPU sockets starting from LGA775 (Intel) and AM2 (AMD). The cooler is tower-shaped and measures 164 x 134.5 x 91.5 mm weighing the massive 1065 grams.
Colored in black the cooler comes with five 8-mm copper heat pipes with Direct Touch technology, which means they have direct contact with the processor they cool. A large 120 mm cooling fan cools the aluminum fins of the ACZ cooler; the fan spins at 800-2800 rpm, pushing up to 84 CFM at noise levels reaching 42.5 dBA. The original cooling construction creates two airflows, which cool the processor even better when compared to other cooling solutions. The MTBF of the cooling fan is estimated at 60 000 hours.
The EVGA ACX is now available on the market where it costs USD 49.99.

Source: EVGA