Intel has presented a new company product – the Xeon D line of processors. While the line reminds us of the Celeron D line of 10 years ago, the Xeon D is a rather different product – it is the first SoC ever in the Intel Xeon line, which has been running for decades.
The Xeon D is made on Intel's newest and finest 14 nm production process and combines high performance with low energy consumption. The new chips will be used in cloud services, the Internet of things, microservers, storage arrays and various network solutions. The Xeon D line naturally consists of 64-bit chips and there are two models with four (Xeon D-1520) and eight (Xeon D-1540) computational cores. A single Xeon D chip includes an Intel Ethernet 10 Gbit/sec port too as well as PCIe, USB, SATA and GPIO ports. The chips can also address up to 128 GB of memory and have TDP of around 20 watts. Performance-wise compared to the Intel Atom C2750 processor, the new Xeon D chips are 3.4 times faster while needing 1.7 times less energy.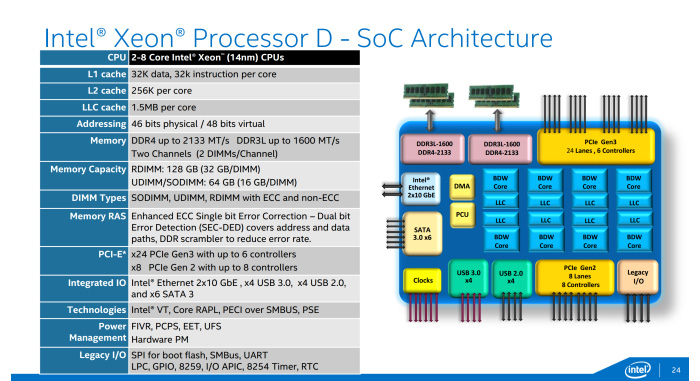 The Xeon D-1520 and Xeon D-1540 are now on the market. They cost USD 199 and USD 581, respectively, and will be used in various solutions by Cisco, NEC, Quanta Cloud Technology, Supermicro, Sugon and HP.
Source: Intel