It has been known for quite some time that Intel's current Skylake processors will be succeeded by a new CPU family called Kaby Lake. The chips are expected in early 2017 but there has been little information on them.
Fortunately the first more detailed news on the new chips has been published. Here's what we will get in about 6 months time: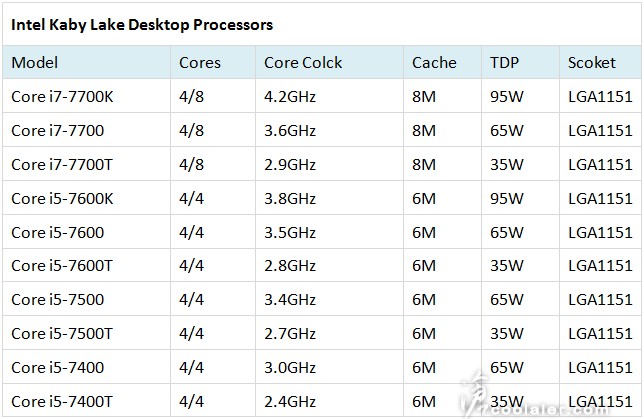 As you can see Intel sticks to its well-known CPU practices – Core i7 chips get four cores plus Hyper-Threading and 8 MB of L3 cache and Core i5 get four cores with no Hyper-Threading and 6 MB of L3 cache. There will also be some low power models with TDP of 35W and lower clock speeds. Speaking of this Kaby Lake seems to enjoy a clock speed increase per chip of 100-200 MHz, which is nice. The chips will also use the current LGA 1151 socket, so some users will not need to get a new motherboard.
The Kaby Lake generation will be accompanied by a new Intel Z200 chipset series. We now know that there will be a few chipsets in this line – Z270, H270, Q270, Q250 and B250. There's no more information on them as of now.
(picture courtesy of Coolaler.com)
Source: Coolaler.com