Lenovo announced three new PC devices that deliver power, performance and style to the digital home experience. Lenovo's first home theatre PC – the IdeaCentre Q700 – provides high definition 1080p playback and digital surround sound for a variety of multimedia formats displayed right on a user's HDTV. Lenovo's first home server – the IdeaCentre D400 – makes managing content across several PCs simple.
In addition, the IdeaCentre Q100 and Q110 nettops continue to push the envelope on thin and light design as the world's thinnest nettops[1] while extending the entertainment experience with support for HD video on the Q110. Lenovo also expanded its ultraportable line with the thin and light IdeaPad U450p for extra portability.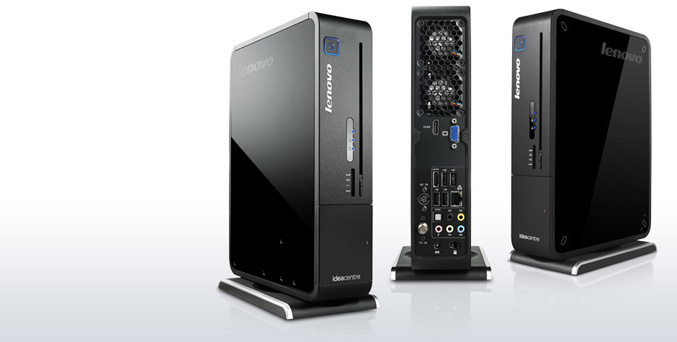 The IdeaCentre Q700 – Multimedia Powerhouse for the Home
Lenovo's DVD-like IdeaCentre home theater PC connects with multiple devices, including digital cameras, smartphones and more so consumers can watch videos in full HD resolution, view photos and listen to music all on their TV. They can also watch and record digital TV with the optional TV tuner and remote while seamlessly integrating multiple media sources into a single device.
Key Features Include:
Full High Definition: Supports 1920×1080 graphics and 7.1 digital surround sound
Fast Intel Core™2 Duo Processors: Provides silent and smooth video playback
Plenty of Storage: Stores up to 1 terabyte of content with eight USB ports and an eSATA port
Additional details for the IdeaCentre Q700 can be found on www.lenovo.com
IdeaCentre D400 – Simple Storage for Work and Play
Lenovo's IdeaCentre D400 home server securely houses large amounts of data for professional and personal use, including videos, music and photos. Users can easily set up a home network to store and share files across different devices such as PCs and smartphones. They can also regularly back up PCs on the network to support a small office or home office.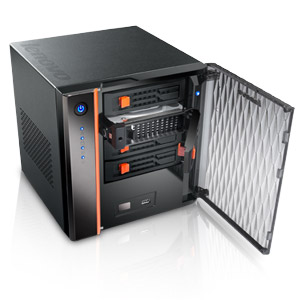 Key Features Include:
Plenty of Storage: Supports up to eight terabytes of total storage
Expandable and Easy to Use: Mix and match different brands and capacities of hard drives and even add and remove them while the PC is running. Connect multiple external storage devices with five USB ports, including a front-mounted port with one-touch data copy function and an eSATA port for high-speed external data transfer
Dependable and Secure: Duplicate important data on multiple hard disk drives for backup and security
Access Anywhere: Remotely access files from anywhere with an Internet connection by connecting remotely to the hub via a secure web page[4]
Additional details for the D400 can be found on www.lenovo.com.
The Idea Centre Q100 and Q110 – Thinning Down the Desktop
The IdeaCentre Q100 and Q110 nettops complete the collection of new digital lifestyle devices and stand out with a stylish black patterned design. These tiny PCs measure 0.7 inches thin, making them the thinnest nettops yet1 at just the size of a small book. The nettops feature an Intel Atom processor, making them ideal for performing basic functions like web surfing, downloading content and producing Internet-based documents. The Q110 may be the smallest, most powerful nettop yet. Equipped with NVIDIA ION graphics, the nettop supports HD video and can handle accelerated media conversion and other tasks consumers would expect from full size desktops.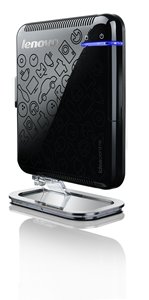 Key Features
Ultra Slim and Small: At only 6 x 6.3 x 0.7 inches thin, the size of this tiny desktop makes it perfect for tight spaces. The nettop can even be mounted on the back of a monitor
Energy Efficient: The Q100 runs on just 14 watts when idle and 40 watts at full operation
Enhanced Multimedia: The Q100 supports VGA output, while the Q110 supports 1080p high definition video with DirectX 10 graphics for crisp and vibrant content and 3G games and also enables smooth playback with NVIDIA CUDA technology
Additional details for the Q100 and Q110 can be found at www.lenovo.com.
The IdeaPad U450p Laptop – Thin and Light Pumps Up Screen Size
The IdeaPad U450p laptop is designed for those looking to balance mobility and performance with style and affordability. Following the introduction of the IdeaPad U350, the 14-inch U450p offers Intel consumer ultra low voltage processors, long battery life and a wide range of entertainment and productivity features.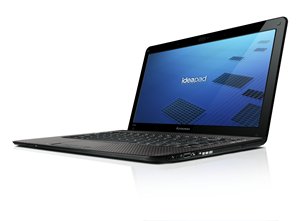 Key Features
Thin and Light: Sporting a sleek, textured design, the U450p laptop is 0.9 inches thin and weighs less than five pounds.
Optimized for Entertainment: With a High-Definition 16:9 screen, an HDMI connector and fast DDR3 memory, the laptop provides an excellent entertainment experience. It also includes a DVD burner/player for anytime access to multimedia on a CD or DVD.
Packed with Smart Features: The laptop comes with a range of smart features designed to make computing more convenient and productive, including OneKey™ Rescue System for easy data and system recovery and VeriFace™ facial recognition technology.
Additional details for the U450p can be found on www.lenovo.com.
Pricing and Availability
The IdeaCentre Q700 home theatre PC and IdeaPad U450p laptop are available immediately through business partners and www.lenovo.com. The IdeaCentre D400 home server and Q100 and Q110 nettops will be available in mid-September.
The IdeaCentre D400 home server and Q700 home theatre PC start at approximately $499. The IdeaCentre Q100 and Q110 nettops start at approximately $249 and $349. The IdeaPad U450p laptop starts at approximately $799.
Source: Lenovo