NVIDIA has officially launched its latest graphics card – the GeForce GTX 680 – which features the long awaited Kepler architecture and according to most reviews and benchmarks the US company has a champion in its hands.
The GeForce GTX 680 is NVIDIA's fastest video card they have created so far and for the first time ever the GPU is built with 28 nm technology. In addition the novelty also sports new technologies such as the so-called GPU Boost.
The GK104 core used in the GeForce GTX 680 comes to us with 1536 CUDA cores (compared to 512 on the 580 and 1024 on the dual-GPU 590), various clock speed courtesy of the new GPU Boost technology, 2 GB of GDDR5 memory at 6000 MHz, accessed over a 256-bit bus and support for 3-way SLI, 3D Vision, PhysX and of course DirectX 11, OpenGL 4.2 and PCI-E 3.0.
The new GPU Boost technology changes the core speed depending on load. Thus when the GPU is involved in calculations its speed jumps from 1006 MHz base speed to 1058 MHz in order to provide better frame rates. GPU Boost works the opposite way too – when the GPU is idle its clock speed drops to 324 MHz. Due to this variable clock speed, the new GTX 680 manages to be very power efficient, with a TDP of just 195W, less than that of the older GTX 570, let alone the 580. Also, despite all that extra power, the GTX 680 runs at 98 degrees Celsius, just one degree more than the GTX 580.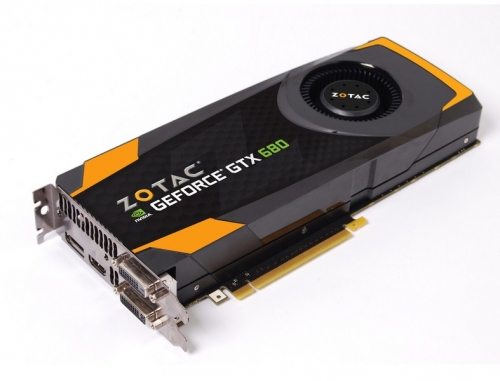 Along with that, the new GeForce GTX 680 also introduces a number of other things, such as a new streaming multiprocessor block, known as SMX, that is said to deliver twice the performance per watt compared to previous generation cards, special board components, including acoustic dampeners, high-efficiency heat pipes and custom fins for a quieter gaming experience, new FXAA and TXAA antialiasing and Adaptive VSync technologies and support for up to four separate displays – three of them in 3D – off a single card.
This entire tech sounds very nice but it's nothing without benchmark numbers. And this is where the new GeForce GTX 680 really shines. According to various hardware web sites, which have had the privilege of getting the new 3D monster, the GeForce GTX 680 is noticeably faster than the current high-end AMD offering – the Radeon HD 7970. To make the story even sweeter, the GeForce GTX 680 is available now for 499 USD, which is even lower than the 549 USD AMD wanted for the Radeon HD 7970.
So if you are an enthusiast or a gamer with a deep wallet, the GeForce GTX 680 is the best graphics card money can buy you right now.

Source: GSM Arena