The Taiwanese computer case manufacturer Lian Li has unveiled a new case that it claims "revolutionizes" computer cases.
The new case is called PC-100 and according to Lian Li improves cooling, prolongs component life, and saves space. The PC-100 is a mid tower case that is both useful and beautiful. It has enough room for the longest 3D cards and largest E-ATX/XL-ATX/ATX motherboards and can be assembled without tools.
Lian-Li's PC-100 improves cooling and usability by changing the internal organization of the case. For the first time there's a case that does not hinder the cooling of the motherboard or the video card, the CPU or the voltage regulation components. To achieve this, in the PC-100 the motherboard is rotated 180 degrees. This makes the hard-to-reach back connectors easy to get to and provides cool air directly to the video card. Meanwhile, the hard disk drives are moved to the side of the case from their traditional location at the front. Arranged flat against the outside of the case, they are able to radiate heat directly to the outside over a bigger surface area, instead of being crammed together in a stack as they are in traditional cases. The airflow direction remains the same, from the front of the case to the back, driven by two large, quiet 140mm fans filling the rear of the case, and another 120mm fan at the front.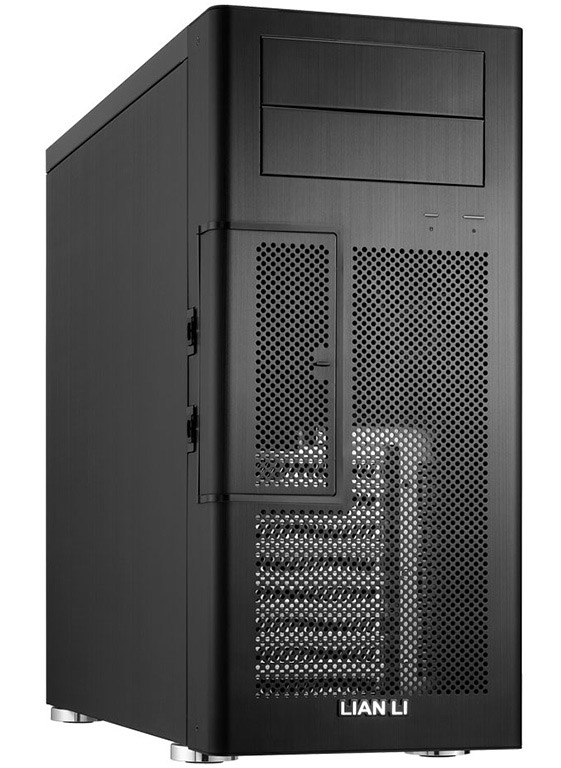 All these changes make the PC-100 a quiet case that is made even quieter by rubber anti-vibration pads under the case, and the disk drives are isolated with rubber strips on the hard drive tray. The case also features washable air filters, a graphics card holder for stability and protection, and water cooling ports. Room is more than enough – there's space for up to 8 full sized drives and 8 expansion slots. For removable and optical drives, there are two bays at the front of the case – at the top to avoid obstructing air flow.
The material used for the PC-100 is black anodized aluminum.
Pricing is unknown at the moment.
Source: Hardwarecanucks