The popular maker of computer chassis Lian-Li has presented the PC-M25 computer case. The new company product is a small form factor chassis but despite this it offers ample storage options and a hot-swap hard drive cage for advanced storage applications.
The new case is designed for microATX and mini-ITX motherboards and arrives in two colors – silver (PC-M25A) and black (PC-M25B). The case measures 199 x 322 x 441 mm and has enough internal space to fit video cards that are as long as 410 mm and ATX PSUs that are up to 230 mm long. The chassis also has four slots for expansion cards and supports CPU coolers that are as high as 80 mm. The main trump of the case is the hot-swap HDD rack where users can easily and quickly install and remove up to five 3.5-inch hard drives with rubber suspension with no need for tools. The bottom hard drive tray can also mount an additional three 2.5-inch or 3.5-inch drives so the number of drives supported goes up to seven. Moreover, the new Lian-Li PC-M25 case has a high-airflow, low RPM 140 mm cooling fan that takes fresh air from two vents on both side panels. A 120 mm exhaust fan sits at the back of the top panel. There's a removable dust filter too, which sits at the bottom of the case under the removable hard drive case.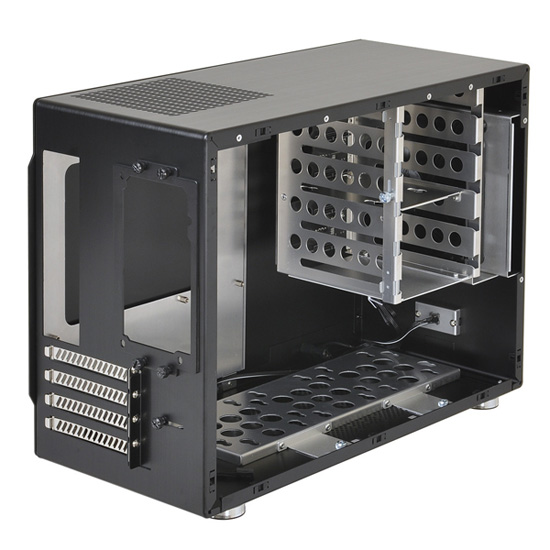 The new case, which weighs 8.24 pounds (3.74 kg) will be available in mid-January for USD 169.
Source: Lian-Li