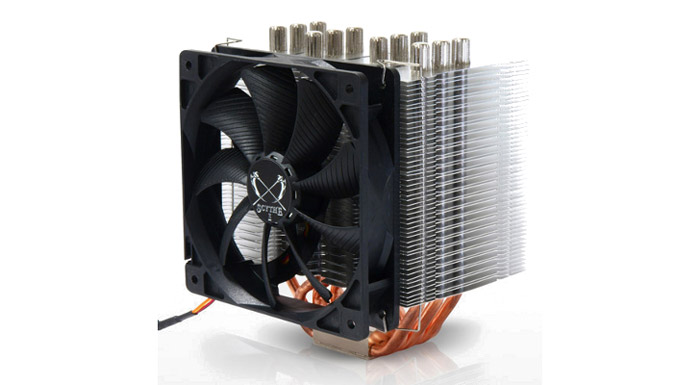 The Japanese CPU cooler maker Scythe will soon release the fourth iteration of its very popular Mugen CPU cooler line. The Mugen 4 carries model number SCMG-4000 and improves on the Mugen 3 in several ways.
First the Mugen 4 comes with a new feature called TMAPS, which stands for "three-dimensional multiple airflow pass-through structure" and is basically a new fin stack arrangement that improves air flow and heat dissipation. Another new feature is HPMS, which stands for "hyper-precision mounting system", which means the Mugen 4 comes with a new retention module that not only requires fewer steps to install the CPU cooler but also supports the upcoming LGA1150 CPU socket.
Enough with the abbreviations so let's take a look at the cooler itself – the Mugen 4 features aluminum fins for heat dissipation and six 6mm thick copper heat pipes to transfer heat from the CPU to the fins. A 120 mm Falcon cooling fan cools the entire construction with the fan spinning between 400-1400 rpm pushing from 20.7 to 79 CFM of air. The entire structure measures 130 x 88 x 160 mm and weighs around 625 grams.
Expected on April 24 the Mugen 4 should retail for around USD 50.
Source: News.Softpedia.com