Thermaltake, leading DIY chassis brand, launches the newest full-tower PC case for demanding gamers and power-users.
The Element V offers optimized airflow characteristics with 5 preinstalled heavy-duty fans, while leaving room for another 3 upgrade fans. Two 120 mm front mounted fans are blowing outside air directly through and over the drive bays with an additional oversized 230 cm ColorShift fan at the side panel taking in a vast amount of outside air and distributing it over graphics cards and CPU. Two exhaust fans in the upper area remove uprising hot air; one 120 mm rear side TurboFan and one big size ColorShift fan in the top panel. No matter how much peripherals you throw at this case, you can always rest assured they won't ever be an air-congestion. You will rather stay cool and calm.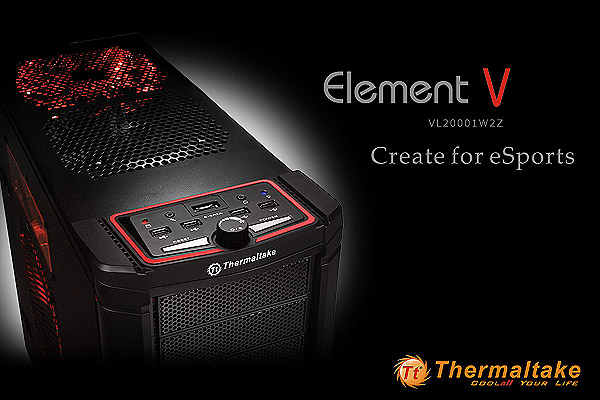 For users you like a vivid look and enjoy giving their case a character of it's own, the three ColorShift fan provide you with 6 color option that can static or in motion. Adjustment of the three ColorShift fans' color scheme and fan speed are conveniently done by a dual-function know on the top front side.
Dimensions of 532 (H) x 220 (W) x 537 (D) cm provide for plenty of room for high-end and power setups. The Element V can house a whooping 12 drive bays of which five are 5.25", six for 3.5" and one for 2.5" devices. High peripheral connectivity is warranted through the implementation of four USB 2.0, one eSATA and HD connectors at the very front of the top panel.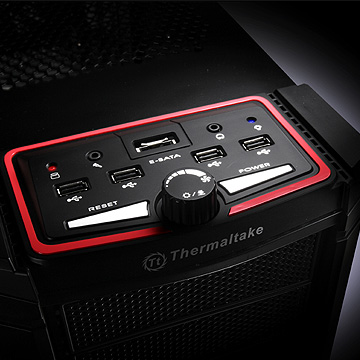 Built for ATX, EATX and MicroATX motherboards the Element V full-tower places standard PS2 power supplies conveniently on the bottom of the case. For more advanced cooling demands or overclocking enthusiasts punch-out holes for water cooling are reserved in the rear panel. And for those who have to frequently cool down their thirst, special holes at the left panel give you the option to install a water bottle cage.
Specification:
Model
VL20001W2Z
Case Type
Full Tower
Dimension (H x W x D)
532 x 220 x 537 mm
(20.9 x 8.7 x 21.1 inch)
Net Weight
14.13 kg / 31.15 lb
Side Panel
Open Window
Color
Black
Material
SECC
Cooling System
Front (intake) :
120 x 120 x 25 mm Colorshift fan x 1 (1000~1400rpm,17dBA)
120 x 120 x 25 mm Turbo fan x 1(1400rpm,17dBA)
Rear (exhaust) :
120 x 120 x 25 mm Turbo fan (1400rpm,17dBA)
Top (exhaust) :
200 x 200 x 20 mm Colorshift fan (600~800rpm, 12~14dBA)
200 x 200 x 20 mm x 1(optional)
VGA (exhaust) :
50 x 50 mm fan x 2 (optional)
Side (intake) :
Plug&Play 230 x 230 x 20 mm Colorshift fan (600~800rpm, 13~15dBA)
Drive Bays
12
– Accessible : 5 x 5.25''
– Hidden : 6 x 3.5'', 1 x 2.5''
Expansion Slots
7
Motherboards
9.6" x 9.6" (Micro ATX), 12" x 9.6" (ATX) , 12" x 13" (Extend ATX)
I/O Ports
USB 2.0 x 4, eSATA x 1, HD Audio x 1
PSU
Standard PS2 PSU
LCS Upgradable
Support 1/2"、3/8"、1/4" water tube
Removable PSU Bridge
Yes
Adjustable PSU Bridge
Yes
The Element V full-tower chassis will be available at a suggested retail price of US$ 169.
Source: Thermaltake