Thermaltake Level 10 GT computer case s a much more affordable successor to the original Level 10 rig which was designed in collaboration with BMW Group Designworks USA.
The design follows the Level 10's design and has an oversized side panel. It has dimensions of 584 x 282 x 590 mm and weighs 12.7Kg. The airflow is provided by three 200mm fans which can be controlled via the ColorShift control on the top of chassis and an additional 140mm TurboFan is also embedded into the back of the case. The ColorShift also enables user to change the colors of each fans' LED. Each intake fans comes with dedicated filter system and can be easily removed for cleaning without having to open the system. If you want to integrate water-cooling solution, the case features a removable top meshed panel with included true 200mm exhaust fan which can be removed for easy installation of the water-cooling radiator.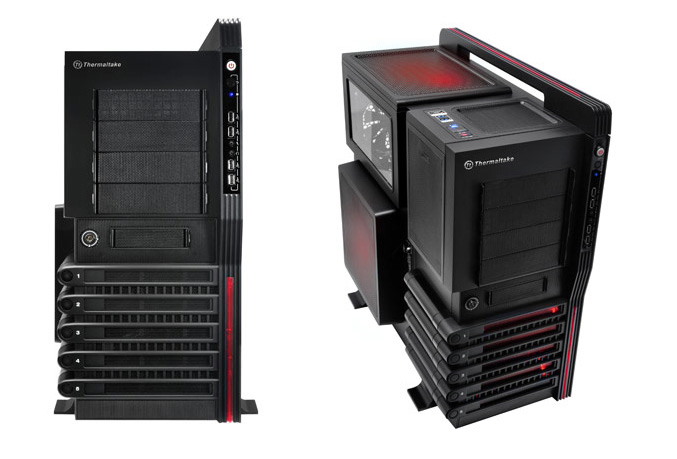 Level 10 GT features  as Thermaltake says "Unmatched Cable Management"  which will allow you "properly to separate cables" and channel them through the grooves strategically placed on the back of the case and when you need to add a graphics card or hdd, there is no need to untangle the power cables that had been "hidden" away, because all hard drives' power connectors are pre-wired eliminating the need for rerouting.

It is equipped with 5 internal hot-swappable bays for 3.5-inch or 2.5-inch drives which can be easily removed by pressing in a button on the side and sliding them out. The case also has hinged side-panel door with Plug&Play Fan Power, USB 3.0 ports on top, four USB 2.0 ports located on the front bezel, as well headphone and microphone connectors and power and reset buttons. Thermaltake also integrate a locking systems for both hinged side-panel door and hot-swappable hard drive caddies to prevent theft when the system is brought to LAN events or public areas.
Level 10 GT is available now for $269 MSRP.