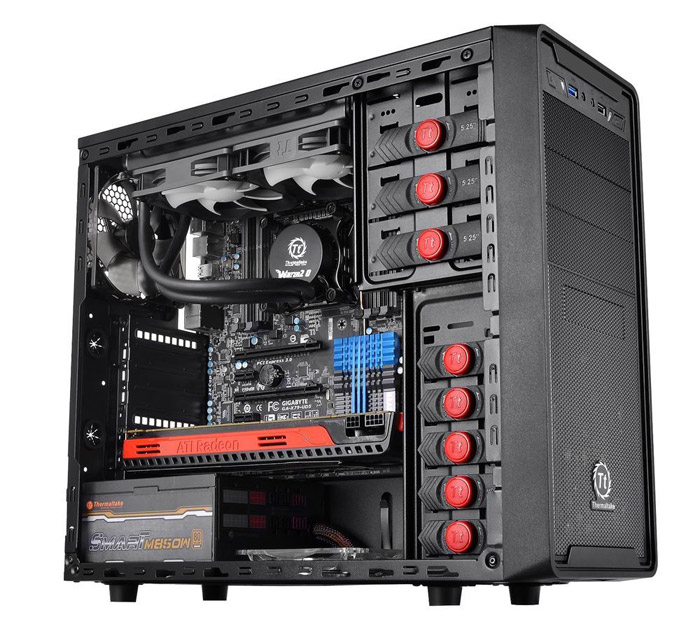 Thermaltake has announced two new PC cases – the Versa G1 mid-tower PC case and the Versa G2 chassis.
Completely black on the outside and inside, the Versa G1 measures 429 x 196 x 481 mm, weighs 4.5 kilograms and sports a side panel that allows you to peek inside the case. Designed to support full ATX motherboards, the Versa G1 comes with three 5.25-inch and six 3.5-inch bays, tool-less installation and seven slots for PCI expansion. Inside the Versa G1 is large enough to accommodate video cards with total lengths of 320 mm and coolers as high as 155 mm. Up front users will also find one USB 2.0 and one USB 3.0 ports as well as two 3.5 mm audio ports and of course the usual Power and Reset buttons.
As to cooling the Thermaltake Versa G1 relies on one 120 mm rear exhaust fan, lighted in blue that spins at 1000 rpm and makes 16 dB of noise. Moreover, in case of need you can install three more 120 mm fans.
Now if you expect something different from the Versa G2 you are in for some disappointment – the only difference between the Versa G1 and Versa G2 is the front panel where the changes are purely cosmetic.
Pricing is unknown as of now for both chassis.
Source: UK.Hardware.info