The Taiwanese maker of PC cases, PSUs, coolers and other PC components Thermaltake demonstrated a modernized version of the three-year-old Full Tower Level 10 PC case. The novelty is called Level 10 GT Battle Edition and, as you may expect, targets gamers while sporting quite a few of the features, found in its predecessor.
Turning to the specs, the new Thermaltake Level 10 GT Battle Edition is made of high-quality steel and measures 584 x 282 x 590 mm while weighing 12.7 kilograms. The case supports the full range of microATX, ATX and Extended ATX motherboards currently on the market and comes with four external 5.25-inch drive slots for various optical devices, six internal 3.5-inch or 2.5-inch slots for hard drives and SSDs and a standard ATX power supply unit. Overclockers and gamers will also be delighted to find out that the new Thermaltake case supports coolers with height of up to 190 mm while gamers can use graphics cards as long as 380 mm. Peripheral connections are represented by two USB 3.0 ports, four USB 2.0 ports, an eSATA port and audio ports.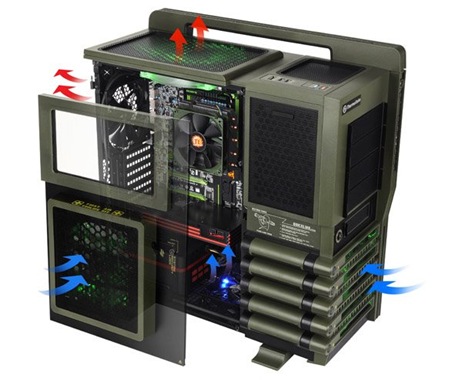 The case is cooled by four pre-installed 200 mm PWM LED fans, three of which spin at 600-800 rpm while the last one, a 140 mm Turbo fan found in the back spins at 1000 rpm.
Pricing and availability are unknown.

Source: HWP.ru