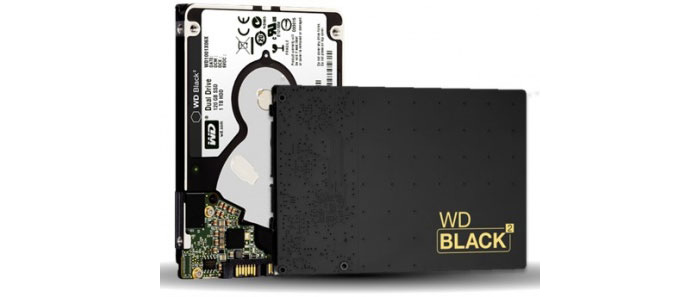 Western Digital, one of the world's famous makers of memory devices such as hard drives, has released the Black² hybrid drive, which the company claims is the future of such devices.
The device comes with the model name of WD1001X06XDTL and combines a regular hard drive with a SSD. The hard drive has a capacity of 1 TB while the SSD holds 120 GB of data. Both devices are seen by the operating system as different hard drives although they are parts of the same memory device.
The WD Black² is housed in a 2.5-inch chassis that is just 9.5 mm thick and is based on 20 nm MLC NAND flash memory. The device has one SATA 3.0 port and one SATA Power connector; it also comes with a SATA – USB 3.0 adapter cable. As to performance it reaches 350 MB/sec of read speed and 140 MB/sec of write speed, 57 000/ 34 000 IOPS respectively, 20 dBa of noise and just 0.9-1.8 W of power consumption. The Black² also supports Windows XP, Vista, 7 and 8. A rather strange peculiarity of the drive is that it cannot function in RAID.
The Black² is available now and costs EUR 300. This much money gets you a 5-year long warranty as well as some company software to go along with the drive.
Source: Western Digital