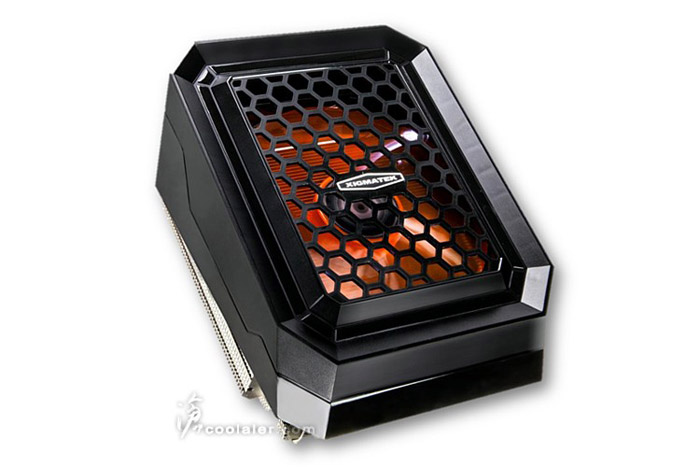 The Taiwanese maker of cooling solutions Xigmatek has started the sales of a rather original CPU cooler known as Orthrus SD1467. The new company product features an unusual form – it includes two aluminium heat sinks – one on top and one at the bottom as well as two cooling fans.
The cooler features a total of seven 6 mm copper heat pipes that cool the two heat sinks – five heat pipes are installed in the top heat sink, while two heat pipes serve the bottom heat sink. A 140 mm cooling fan that spins at 800-1200 rpm and pushes up to 79.8 CFM at 28.7 dBa of noise cools the top heat sink. The bottom heat sink gets cooled by a smaller 80 mm cooling fan that spins at around 2000 rpm pushing up to 23.8 CFM at 28.7 dBa of noise. Both cooling fans can withstand up to 50 000 hours of usage. A stylish cover in black also covers the top cooler.
The Xigmatek Orthrus SD1467 can cool chips with TDP of up to 180 watts. The cooler is fully compatible with all modern processors and supports Intel LGA 775/1150/1155/1156/1366/2011 processors and AMD AM2/AM2+/AM3/AM3+/FM1/FM2 and the upcoming FM2+ chips.
The pricing of the new Xigmatek cooler is still unknown.
(picture courtesy of coolaler.com)

Source: Xigmatek