Samsung Electronics Co., Ltd., a worldwide leader in digital consumer electronics and information technology, announces its new external DVD writer, the SE-S084B series.
The new tray-type DVD writer is a slim portable device, available in seven color choices. Samsung's new external DVD writer is designed to meet market demand for external DVDs to complement mini-notebook and netbook PCs, a fast growing sector in the PC industry.
The SE-S084B series adopts a single interconnect cable for both data transmission and power supply. The DVD writer is connected through a USB port without the need for a separate power cable. This tray-type slim DVD writer weighs less than a pound (0.4kg) making it an attractive easy to carry portable device.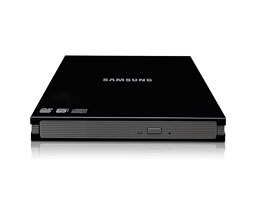 "By adopting lead-free soldering technology, the SE-S084B has an eco-friendly design and is RoHS compliant," said Jin-soo Lee, vice president of strategic marketing for Toshiba Samsung Storage Technology. "The new external DVD writers offer a wide choice of color and added portability for enhanced usability."
As with Samsung's complete WriteMaster optical disc drive lineup, the SE-S084B features specific technology that ensures best-of-breed performance including SAT1 (Speed Adjustment Technology), TAC2(Tilt Actuator Compensation) and Double OPC3 (Optimum Power Control). Buffer Under Run Free Technology4 supports stable writing under high speed, and Magic Speed5 and ABS (Automatic Ball Balancing System)6 technologies that reduce vibration and noise.
The new external DVD is available in a 8X DVD+R and DVD-R writer, a 6X DVD+R and -R Dual Layer writer, and a 5X DVD-RAM writer, with color options of black, white, silver, pink, blue, sky-blue and red. The SE-S084B series is available now in the US with a $79.99 MSRP.