Samsung has made it to the news once again but this time the famous Korean company is not here with a new smartphone. Instead Samsung has decided to launch two new curved monitors – the CFG70, which comes in two flavors (23.5 inches and 27 inches) and the CF791, which features 34 inches of visual goodness.
The new monitors are packed with features that include LED lighting, an intuitive user dashboard, AMD's FreeSync technology, quantum dot technology and more. By doing that the CFG70 and the CF791 can offer their users a wide range of vivid and crisp colors, energy saving features, 125 per cent sRGB coverage and more.
"Incorporating the same quantum dot technology found in our incredible TV lineup, the CFG70 and CF791 monitors are poised to deliver the most realistic experience for gamers and consumers alike," said Andrew Sivori, Vice President, Consumer IT Marketing at Samsung Electronics America. "In addition, we've bolstered color accuracy, refined the display curvature and significantly reduced MPRT (Moving Picture/Pattern Response Time)."
The usage of AMD FreeSync also allows the monitors to synchronize screen refresh rates, which range from 100 Hz in the CF791 to 144 Hz in the CFG70. The monitors sport wide curvature radii of 1500W for the CF791 and 1800R for the CFG70 and 1 ms of response time for the CFG70 and 4 ms for the CF791. There's also blur reduction technology that activates backlights when images appear. Here's a list of all tech specs: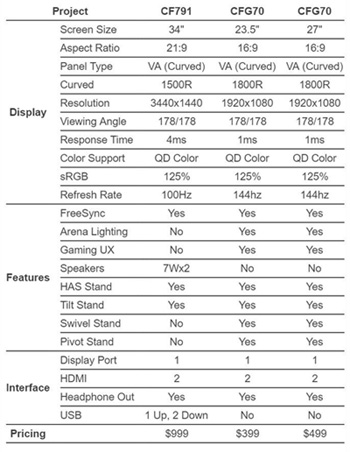 The new Samsung CFG70 and CF791 monitors are available now.
Source: Samsung