CherryPal outs 7-inch Android tablet for $188

California-based manufacturer CherryPal launches  7-inch Android 2.1 based tablet PC, that coast only $188.
The affordable machine weighs just 1.1 pounds and is housed in a aluminum case. Spec-wise it sports 7-inch (800 x 480) resistive touch display, powered by Samsung ARM11 800 MHz processor, 256 MBs DDR2 RAM, 2 GB Flash memory, WiFi 802.11 b/g wireless, gravity sensor, Micro SD slot, USB port, 3.5 mm headphone jack, built-in speakers and microphone, optional external 3G modem and comes with Polymer 3200 MAH battery, which promises up to 8 hours work time.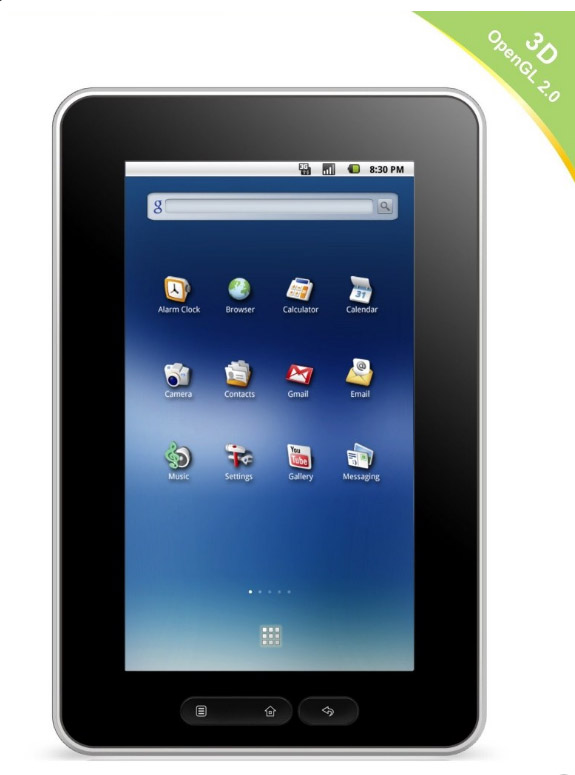 The CherryPad comes with Android 2.1, but the manufacturer planned an upgrade option to 2.2  for the fourth quarter 2010. It of course has a full access to the Android Market and CherryPal says that can even play 3D games. The tablet si available now for $188 here
"The CherryPad is neither an iPad killer nor an iPad clone, it's a completely different product designed for a different market," Seybold said. "The screen of the CherryPad is only 7-inches big, the processor is slightly less powerful, and the CherryPad comes with Android 2.1 and not Apple's iOS."