Dell introduced on FCC its first rugged tablet – Latitude XT2 XFR. The 12.1-inch rugged convertible tablet comes with multi-touch display and is designed especially for the needs of  customers in the military, police, border patrol, field service organizations, factory fulfillment and first responders.The Latitude XT2 XFR adds to Dell's Rugged Mobility Solution offering that includes the fully rugged Latitude E6400 XFR and the semi-rugged Latitude E6400 ATG laptops.
Features of the Latitude XT2 XFR include: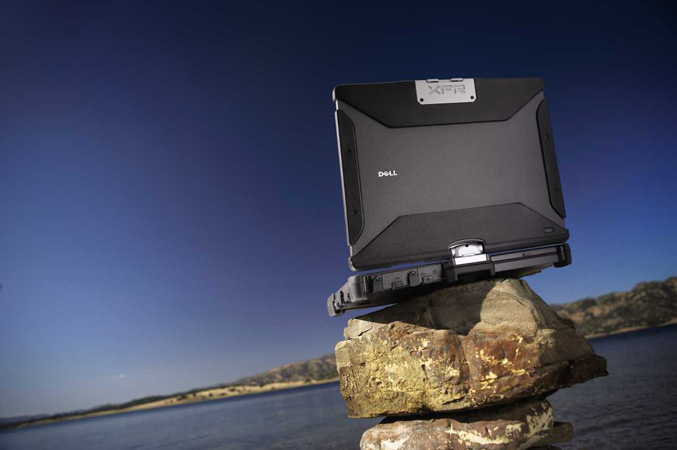 At 1.5 inches (38.1 millimeters) it is the thinnest 12.1-inch rugged convertible tablet and starts at 5.4 pounds (2.45 kilograms) with four-cell battery and solid state drive1, it is engineered and independently tested to meet MIL-810G standards for operation in harsh environments. Dell expects MIL-810G certification in the coming weeks.
Compression-sealed and rugged I/O doors, LCD, and keyboard, provide an IP54 level of Ingress Protection, or resistance to moisture and dust.
The Latitude XT2 XFR can be installed in police or first-responder vehicles where critical information can be accessed with one hand. The Latitude XT2 XFR is also ideal for field-service and industrial manufacturing workforces who need an easy to carry, rugged system that can stand up to drops, spills and temperature extremes.
The Latitude XT2 XFR is available with Dell's optional remote management capabilities and next business day service and support.2
The rugged tablet shares common images and components with the Dell Latitude XT2 tablet for easy integration into existing environments. The Latitude XT2 XFR also includes:

Intel Core 2 Duo processors with up to 5GB3 of DDR3 1066 MHz memory.4
QuadCool Thermal Management System enables excellent performance, even in extreme temperatures from minus 10 degrees to 140 degrees Fahrenheit.
Four-, six- and nine-cell battery options.
Standard data security features that include Dell ControlVault and Dell ControlPoint, as well as optional solid state and spinning disk drives with full disk encryption.
Impact resistant, sunlight viewable, 12.1-inch wide LED display with capacitive multi-touch gestures-enabled or optional resistive touch screen.
Optional hot-swappable modules including GPS (in the coming weeks) and webcam.
Optional expansion sliver provides camera/light, serial, and RJ11 inputs.
An extensive range of optional accessories and services that include mobile rugged docking and mounting solutions in the coming weeks.
A full complement of wireless connectivity options including wireless LAN 802.11 a/g/n, Bluetooth 2.1 and mobile broadband.
The XT2 XFR is available in the U.S., Canada, France, Spain, United Kingdom, Germany and Italy via all of Dell's sales channels, including PartnerDirect. It starts at $3,599 and more information is available here.
Source: Dell