Lenovo today officially announced its tablet portfolio which includes the Android based models IdeaPad Tablet K1 and the ThinkPad Tablet,  and the new Windows 7 based IdeaPad Tablet P1.
The Lenovo IdeaPad Tablet K1 is fitted with 10.1-inch (1280 x 800) multi-touch capacitive display, measures 264 x 13.3 x 189 mm, weighing in at only 750 grams. The tablet is running Android 3.1 (Honeycomb) and is powered by nVidia Tegra 2 dual-core chip, plus 1GB of RAM and up to 64GB of storage, along with a 2-cell battery that can lasts for up to 10 hours of operation. Connectivity options include 802.11 b/g/n WiFi, Bluetooth, optional 3G, and a mini HDMI connection which offers up to 1080p HD viewing when connected to an HDTV or monitor. There's also an ambient light sensor, aGPS, an accelerometer, a card reader, a microSD if you need more storage space, integrated microphone and two 0.5W speakers, while a 5-megapixels on the back and 2-megapixels camera on the front will help you to capture important moments for you and when chatting with your friends.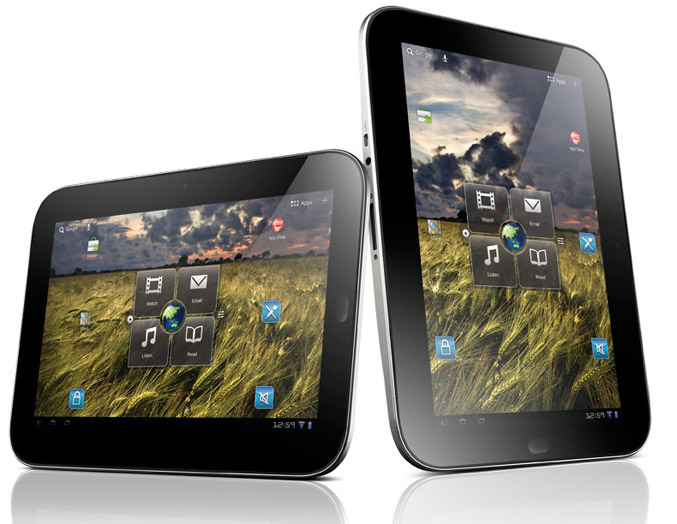 The tablet targets the regular consumers andoffers several key features and tools as standard, plus it is "the industry's first" Android-powered tablet certified to deliver Netflix video streaming. It comes preloaded with with the Lenovo App Shop and more than 40 apps from Lenovo's partners like Netflix, Amazon, Adobe, Electronic Arts, Rovio, Zinio, Dataviz, and others, as well as Lenovo's exclusive SocialTouch app that offers access to all social sites all in one place,
The IdeaPad Tablet K1 is available for pre-orders now, starting at $399 with 16GB of storage and will be generally available in the U.S. in August 2011, while worldwide during the third quarter 2011.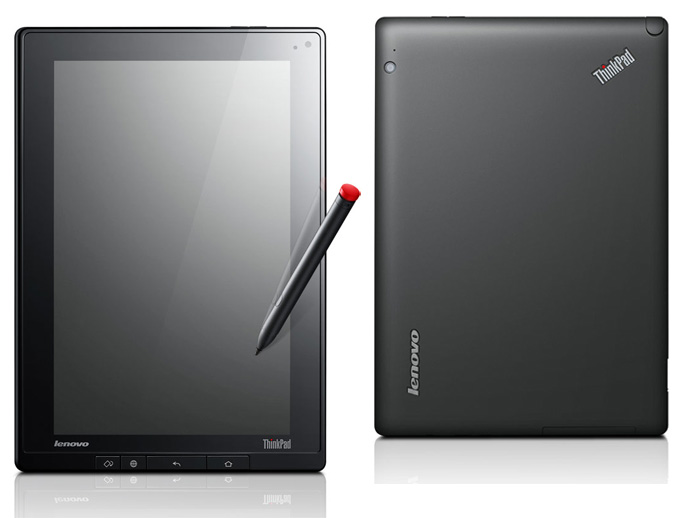 The Lenovo ThinkPad Tablet is aimed towards business customers, combining the entertainment features of the IdeaPad Tablet K1 with the security, reliability and manageability for enterprise class devices. It also runs on NVIDIA Tegra 2 Dual-Core 1GHz processor, but its 10.1-inch WXGA (1280×800) IPS panel touchscreen is enhanced with scratch-resistant Corning Gorilla Glass. The tablet weighs 1.65 lbs and is 14mm thick, and offers 8.7 hours of operation. It also comes with full-size USB 2.0 port and a dock connector. ThinkPad Tablet also includes an optional digitizer pen and can be paired with Lenovo's special ThinkPad Tablet Dock which has integrated USB 2.0 port, micro USB, HDMI and microphone input, and ThinkPad Tablet Keyboard Folio case ($99) that has integrated QWERTY keyboard with optical TrackPoint.
The ThinkPad Tablet comes pre-loaded anti-theft software and the ability to disable the tablet if the device is lost or stolen, Documents to Go app, supports SD card encryption, and also has access to apps in the Lenovo App Shop.
The 16GB ThinkPad Tablet( Wi-Fi model) is priced at $479 without the digitizer pen, and at $509 including the digitizer pen, while the 32GB  model with digitizer pen is $589. They will be generally available in the U.S. in August 2011, while worldwide during the third quarter 2011.