The Bluetooth Special Interest Group (SIG) today announced the finalists of the 5th Annual Best of CES 2010 Awards. The 10 finalists, one of which will be named the winner of the Best of CES 2010 Awards, represent the best of the best in Bluetooth technology with innovative wireless connectivity features that will be seen in market in the coming year. The finalists will be showcased during the Bluetooth SIG member reception held the evening of January 8, during the 2010 International Consumer Electronics Show (CES).
This announcement also marks the kick-off of the 2nd Annual Bluetooth SIG Best of CES User's Choice Awards, where visitors to www.bluetooth.com/userschoice can vote for their favorite Best of CES finalist and be entered to win one of the 10 finalist products. Each vote counts as one entry and visitors may vote as often as they'd like. Voting opens today and will remain open until Sunday, January 3.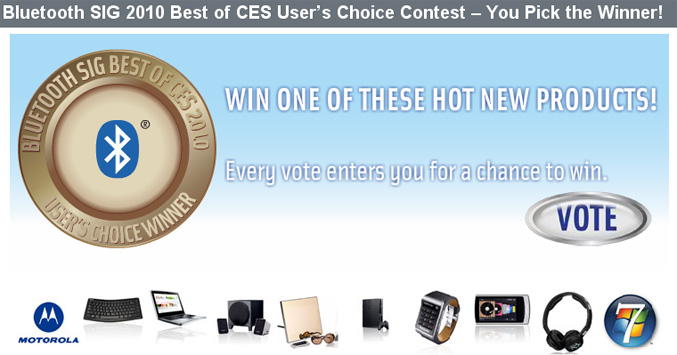 The overall Best of CES winner and the Best of CES User's Choice winner will be unveiled at the Bluetooth SIG member reception. Member companies and media alike will be able to view the finalists' devices firsthand and be present for the announcement of the overall winners. The winning products will be featured in the spring 2010 issue of the Bluetooth SIG magazine, SIGnature, and will also receive a free, full-page advertisement in the magazine.
Finalists of the 5th Annual Best of CES Awards Program are:
Creative and APTX Creative Inspire S2 Wireless Speakers
Microsoft Bluetooth® Mobile Keyboard 6000
Microsoft Corporation Windows 7
Motorola, Inc. Motorola Bluetooth® (HP Laptop with Bluetooth v3.0)
Nokia Booklet 3G Mini Laptop
Parrot Grande Specchio Photo Frame
Samsung Electronics Co., Ltd. GT-S9110 Watch Phone
Samsung Electronics Co., Ltd. YP-R1 Music Player
Sennheiser Communications A/S MM 450 Stereo Headphones
Sony Computer Entertainment Inc. PLAYSTATION3
"These top products encompass all of the features that make Bluetooth technology so unique," said Michael Foley, Ph.D., executive director, Bluetooth SIG. "With nearly three billion Bluetooth devices available worldwide today, the sky is the limit for Bluetooth technology and these products provide a glimpse into what the future holds for its users around the globe."
Fifty-four devices were submitted for consideration and were carefully tested and inspected by the Bluetooth SIG based on a variety of criteria including interoperability testing, containing expected profiles, and ease of use. Bonus points were awarded to those products that included Experience Icons on the product packaging or the product website, and also for products utilizing the newly adopted Bluetooth v3.0 specification.
Source: Bluetooth.com