Toshiba Corporation, the pioneer in small form factor hard disk drives (HDDs), announced new HDDs capable of delivering 200GB (MK2060GSC) and 100GB (MK1060GSC) storage capacities in a single-platter design. The 200GB MK2060GSC has a rotational speed of 4,200RPM and serial ATA interface, and is the industry's highest capacity HDD available for automotive applications. Both new series will enter mass production in August.
The MK2060GSC has been designed to target telematics and infotainment applications where proven performance and capacity are critical, and represents a significant innovation in HDD technology for automotive applications. Technical benefits include approximately 78 per-cent improvement in internal transfer rates, compared to the previous series, a faster seek time of 12 milliseconds and extremely quiet 'silent seek' operation of 23dB. These features make it ideal for multimedia and navigation applications, which require a combination of high storage capacities and rapid data read operation to secure user satisfaction.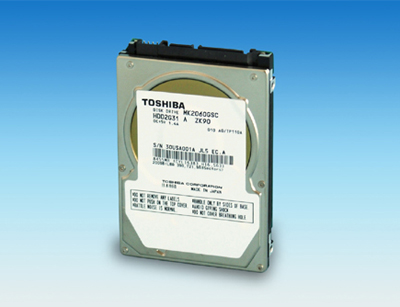 The launch of the new drives will enable manufacturers to deliver high storage capacity systems that offer exceptional levels of reliability. The MK2060GSC has been designed to operate in an altitude range of -300 to 5,650m and at operating temperatures of -30 to +85°C, and to deliver high levels of operating shock resistance (2,940m/s2) and increased vibration resistance. Telematics systems manufacturers deploying the MK2060GSC in high end cars can be confident of their products functioning normally, even in extreme environmental conditions.
Both products are also suitable for use in industrial settings where extended temperature tolerances are required. In line with Toshiba's commitment to reducing its environmental impact, all drives are fully compliant with RoHS regulation and halogen free.
Toshiba introduced its first HDD for automotive application in 2001. The company's highly durable and reliable products today command a share of approximately 75% of the global automotive HDD market, and cumulative shipments now stand at over 14 million units in the period to March 2010.
Key Features
1. A storage capacity of 200GB realizes the industry's largest capacity in a 2.5-inch HDD for automotive application (MK2060GSC).
Toshiba's original technology improves the perpendicular magnetic recording technology head and disk and realizes a storage capacity of 200GB, the industry's highest for a 2.5-inch HDD for automotive applications.
2. Improved high speed processing
The new products accelerate data processing by improving the average seek time by approximately 25% compared to the 80GB MK8057GSC, model in Toshiba's previous series of automotive 2.5-inch HDD. The internal data transfer rate is improved by approximately 78%.
3. Improved seek noise
Toshiba's original advanced acoustic management technology limits acoustic noise during seek and realizes a 23 dB, a 3dB decrease from the previous 80GB MK8057GSC model.
4. High vibration resistance
HDD used in automobiles needs two to three times the vibration resistance of HDD in PC. Toshiba has increased the rigidity of the enclosure, and added a head positioning technology that compensates the head position in real time. As a result, the new HDD have a vibration resistance of 24.5m/s2 (50-200Hz), and a data stability is assured.
5. Ability to withstand severe operating temperatures
Toshiba's automotive HDDs deliver the extended operating specifications required for the automotive operating environment. The new HDD have an operating temperature range of -30º to 85º Celsius, and a non-operating temperature range of -40º to 95º Celsius.
6. Low atmospheric pressure operation
The magnetic head of an HDD floats approximately 1/100,000mm above the fast rotating disk. By adopting the latest aerodynamic design technology in the head slider design, the new drives can read and write data even in low-pressure conditions at high altitudes. They can operate at pressure as low as 495hPa (5,650m).
7. Environmentally conscious products
(1) The company's first HDD for automotive applications recognized as Halogen-Free Products
The new drives achieve chlorine and bromine concentrations below 900ppm, and a combined overall total below 1,500ppm.
(2) Decreased CO2emissions during lifecycle[7] (MK2060GSC)
MK2060GSC decreases CO2 emissions across the product lifecycle by 230g per year, by decreasing product power consumption and environmental burdens from the raw materials stage.
(3) RoHS compliant
The new drives comply with the European Union's RoHS directive on the elimination of six hazardous substances in electrical and electronic equipment.
Technical Specifications
Model Number
MK2060GSC
MK1060GSC
Capacity
200GB
100GB
Number of platters
1
Number of heads
2
1
Average seek time
12ms
Rotational speed
4,200RPM
Interface
Serial ATA 2.6
Interface speed
1.5Gb/s
External Dimensions (WxDxH; mm)
69.85mmx100.0mmx9.5mm
Weight
98g (max.)
Energy consumption efficiency [8]
0.0040
0.0080
Classification
d
Temperature
Operating
-30°C – +85°C
Non-operating
-40°C – +95°C
Atmospheric Pressure (Altitude)
Operating
495hPa(5,650m) – 1,050hPa(-300m[6])
Non-operating
193hPa(12,000m[9]) – 1,050hPa(-300m)
Vibration
Operating
29.4m/s2, 3G(8-50Hz)
24.5m/s2, 2.5G(50-200Hz)
19.6m/s2, 2G(200-500Hz)
Non-operating
49m/s2, 5G(10-500Hz)
Source: Toshiba