HDI Dune unveils a new budget series universal media player, the Dune HD Lite. The first model from the new family is Dune HD Lite 53D, which is presented as an entry-level media player and is capable to play standard and high definition videos as well can be used as a specialized set-top-box for digital TV programs reception.
The HD Lite 53D has a compact case (85 mmW x 145 mmD x 160 mm H), available in five different colors – light-blue, green, white, pink and black, comes equipped with two USB 2.0 ports, an eSATA port, internal HDD (SATA 2.5) support, Ethernet and an SD card reader. There are also all necessary outputs such as composite and component video outputs., HDMI v1.3, optical Toslink S/PDIF sound output interface, and RCA stereo. The universal media player is powered by Sigma Designs 8653 processor has a 256 build-in RAM and 128 MB Flash memory,  supports most popular audio and video formats such as MKV, MPEG-TS, MPEG-PS, M2TS, VOB, AVI, MOV, MP4, QT, ASF, WMV, DVD-ISO, VIDEO_TS, also IPTV and Internet-radio supports, has a built in torrent-client and can even be used to stream both audio and video over a local network.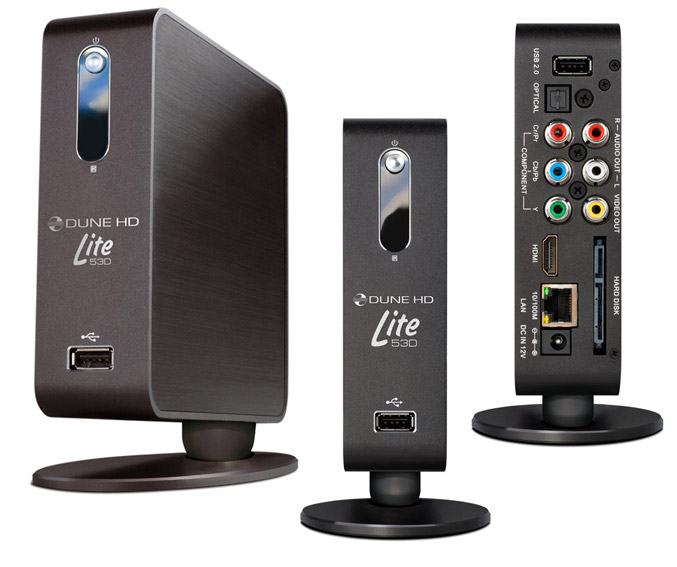 The HD Lite 53D universal media player is expected to hit the store shelves in early October 2010 for $169 in the USA market and EUR 169 in Europe (inc. VAT).

Features
The newest Sigma Designs 8653 media processor: enjoy excellent playback and performance of interactive features.
HDD player: connect an HDD to the player and play content directly from the HDD.
Network player: connect the player to a local network and play content directly from PC or NAS (UPnP, SMB, NFS).
MKV player: play HD and SD video in a popular MKV format and other modern video file formats, including top quality HD video with very high bitrate.
2 USB ports: conveniently connect HDDs, USB flash drives, USB card readers and other USB storage devices.
SATA port: connect an HDD via the most efficient SATA interface.
SD card slot: easily play media files on SD memory cards from your camera or other devices, or use an SD memory card as a local storage.
HDMI 1.3: ensure the best possible quality of HD video and audio.
Video output flexibility: output video in any resolution and format (from SD to 1080p, 24p/PAL/NTSC).
Upscaling: high quality upscaling of DVD and any other SD video content to Full HD (1080p) or other HD resolution.
File browser: convenient file browser with powerful file management (copy, move, delete, rename, organize, sort).
Extra Functions
High-quality music playback: play very high-quality (up to 192 Khz / 24-bit) music files in various formats (FLAC, Monkey's Audio APE, WAV/PCM, DTS, etc).
Playlists: build playlists from your folders, use your own playlists, use repeat and shuffle functions.
NAS function: access files on storage devices (HDD, optical drive, etc) attached to the player from the local network (using SMB or FTP).
BitTorrent: use built-in BitTorrent client to download files from P2P networks.
Customizable user interface: work with media collections using cover art and icon browsing (with Full HD graphics).
Internet radio: playback and record various Internet radio stations (HTTP/MP3).
IPTV: playback and record IPTV streams (multicast UDP/RTP) from your Internet provider (check availability of multicast UDP/RTP streams with your Internet provider).
Digital TV option: playback and record Digital TV channels using an optional Digital TV USB dongle (Digital TV USB dongle is not included; this option can be purchased separately).